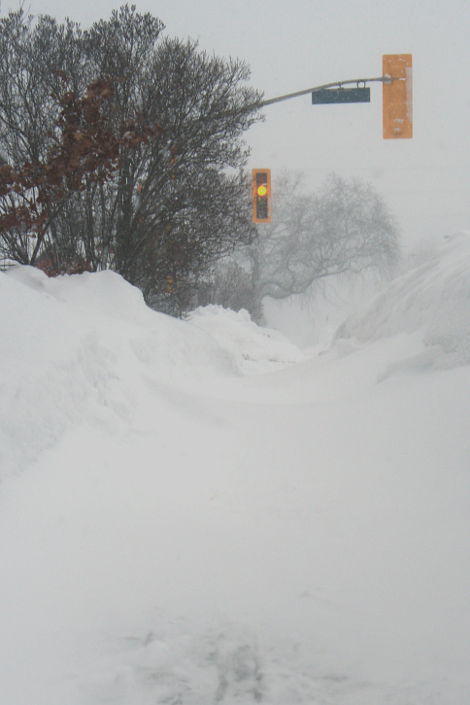 SEVERE WEATHER BULLETIN
ENVIRONMENT CANADA
*************************
WATCHES/WARNINGS IN EFFECT FOR NORTHERN ONTARIO.

WIND CHILL WARNING FOR: SAVANT LAKE - STURGEON LAKE - LAKE NIPIGON - WABAKIMI - GERALDTON - LONGLAC - CARAMAT - NAKINA - AROLAND - PAGWA - NIPIGON - ROSSPORT.

WIND CHILLS NEAR MINUS 40 OVERNIGHT AND EARLY WEDNESDAY MORNING.

LOW TEMPERATURES OF MINUS 25 TO MINUS 30 WILL COMBINE WITH NORTH WINDS OF 15 TO 30 KM/H TO PRODUCE WIND CHILL VALUES NEAR MINUS 40 OVERNIGHT AND EARLY WEDNESDAY MORNING.

WINTER STORM WARNING FOR: KAPUSKASING - HEARST - TIMMINS - COCHRANE.

SIGNIFICANT SNOW STORM CONTINUING TONIGHT.
A STRONG LOW PRESSURE SYSTEM HAS MOVED OVER SOUTHWESTERN QUEBEC TONIGHT.
SNOW HAS BEEN AFFECTING MUCH OF NORTHEASTERN ONTARIO WITH TOTAL SNOWFALL AMOUNTS OF 20 TO 30 CM ALREADY HAVING BEEN OBSERVED FROM THIS WINTER STORM.
A FEW MORE CM OF SNOW ARE POSSIBLE BY MORNING.
THE SNOW CONTINUES TO BE ACCOMPANIED BY STIFF AND COLD NORTHERLY WINDS TO 50 KM/H PRODUCING BLOWING SNOW IN OPEN AREAS.
LIGHT SNOW WILL LINGER WEDNESDAY BUT STRONG WINDS WILL CONTINUE TO REDUCE VISIBILITIES IN BLOWING SNOW.

TRAVELLERS ARE URGED TO ALLOW EXTRA TIME DUE TO HAZARDOUS ROAD CONDITIONS AS HEAVY SNOW AND BLOWING SNOW WILL FREQUENTLY CAUSE NEAR ZERO VISIBILITY.
*************************
WATCHES/WARNINGS ENDED FOR NORTHERN ONTARIO.
WINTER STORM WARNING ENDED FOR: MANITOUWADGE - HORNEPAYNE - WAWA - WHITE RIVER - PUKASKWA - SAULT STE. MARIE - SUPERIOR EAST - CHAPLEAU - MISSINAIBI LAKE.
REFER TO YOUR LOCAL PUBLIC FORECAST FOR FURTHER DETAILS.
*************************