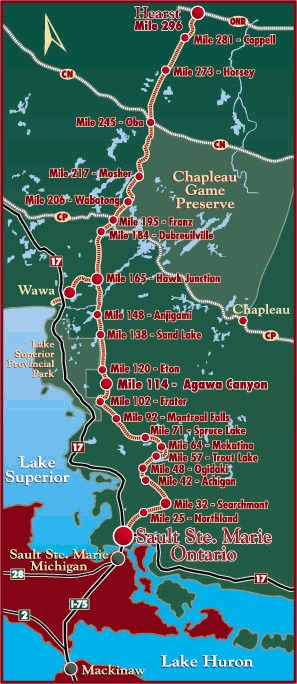 Loyal SooToday.com reader Maureen A. Lowe has asked us to publish a copy of a letter she recently sent Bryan Hayes, our Member of Parliament, in regards to a decision by the Federal Government to cut funding to passenger rail service which resulted in CN's decision to cut passenger rail service between Sault Ste. Marie and Hearst. Her letter follows.
*************************
Mr. Bryan Hayes:
The Algoma Central Railway and its passenger service, has been part of this country for 115 years.
It was instrumental in building Northern Ontario communities and allowing families to enjoy its natural beauty by traveling to remote parts of Ontario.
Many families have built cottages along this route and spend weeks and months enjoying this part of God's Country.
Tourism has diminished, however there are thousands of dedicated people who travel to fishing lodges and camps along the ACR, year after year.
There are no roads to many of these places, which adds to the experience of being in the remote north.
What are these cottage and tourist owners to do with property they have had for generations, pay taxes and insurance on and can no longer access them?
How can the Federal government announce one week that they are giving $66 million dollars to foreign countries and the next day take away part of Canada's history?
Remember - Railroads built this country.
It brought people together, corporations made millions of dollars from the rail companies transporting goods across this country, and also brought in the millions of immigrants that worked to the death to build these rail roads.
I can't believe how this government can so easily forget about the history of this country and why we all have what we have.
I agree that we are a very small population compared to the larger centers like Toronto and Ottawa, however, we have nothing but respect and appreciation for our great north and it is unacceptable how both the federal and provincial governments keep taking from us 'small' people, to benefit the areas of higher population.
We pay taxes too. We also vote!!
The loss of the Algoma Central Railway Passenger service will have nothing but devastating effects on all communities and I think it is appalling that you will allow that to happen.
It has been very clear for years that when CN took over the Algoma Central Railway (Wisconsin Central) passenger service that they wanted it gone.
Just another example of the Fed's feeding into the large corporations pocketbooks and using our Tax Dollars to benefit themselves only.
A reply to this situation would be expected and appreciated.
Sincerely,
Maureen A. Lowe
*************************
Disclaimer: The content supplied by readers as "Letters to the Editor" on SooToday.com does not in any way, shape or form, implied or otherwise, necessarily express or suggest endorsement or support of any of such content, statement, or opinions therein. SooToday.com does not necessarily adhere to or endorse content provided by outside non-staff sources.