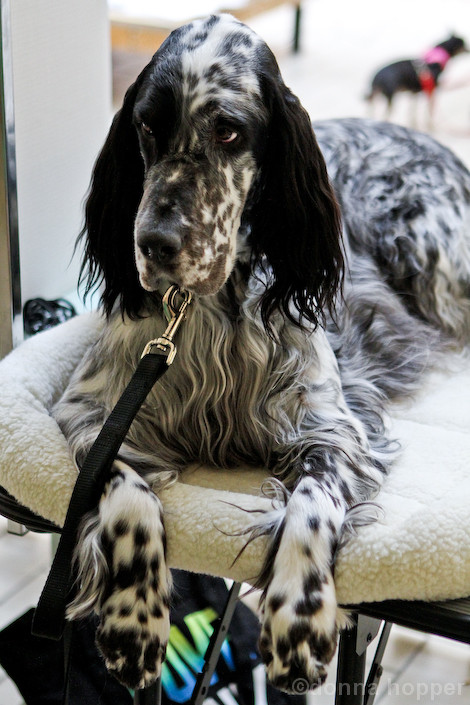 Meet Pirate.

He's a 3-year-old Canadian Champion Linwood English Setter.

This beautiful mellow fella was one of a number of dogs shown yesterday at the Sault Ste. Marie Kennel Club's Breeders' Showcase at the Station Mall.

His proud owner, Lauren Brunton, told SooToday.com that thanks to his breed's affectionate and friendly nature, Pirate works once a week as a St. John's Ambulance therapy dog.

"They're great family companions," she said. "They can be trained to do just about anything, except herd. They're extremely eager to please."

The showcase included a variety of other pure breeds, including SSMKC President Pat Johnson's Newfoundlands.

Johnson urges any dog owner, pure breeds and otherwise, to check out the SSMKC.

"We can help dog owners with almost anything - whether it's health issues, grooming questions, and breeding and artificial insemination. You name it, we're going to try and cover it," she told us. "We have a variety of members and they all bring their own expertise."

Membership is $20 per year and is open to anyone.

Benefits include instruction in obedience training, rally and agility training, and clicker training.

The club can also help with conformation for those who wish to show their dogs.

"We are broadening our horizons and introducing things like structure and movement, breeding, and we're planning on having guest speakers at our meetings once a month," said Johnson.

The next meeting is Tuesday, May 1 at the Kennel Club, 76 Fourth Line West (north of Peoples Road), at 7:30 p.m., and will include a presentation by Dr. Scott Craig on laser and acupuncture therapy for your pet as an alternative to drug and/or surgery treatment.

For more information about the Sault Ste. Marie Kennel Club, visit the website or call 705-256-2866.