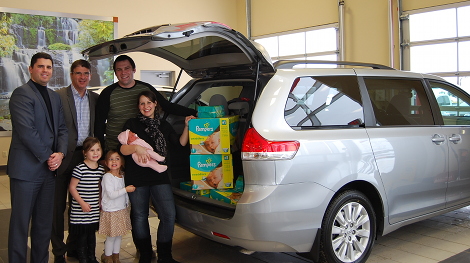 When the parents of the first baby born this year in Sault Ste. Marie picked up a new vehicle they bought from Northside Toyota today they had no idea they would also be picking up an extra surprise or two.
As reporter earlier by SooToday.com, Breleigh Everett Best was born a few hours into 2014 at Sault Area Hospital.
Her mom and dad are originally from the Sault but now live and work in White River with Breleigh's to older sisters, Jayla and Madelyn.
When they went to pick up their new Toyota Sienna today, Breleigh's mom and dad, Sarah and Paul also picked up a whole passel of diapers courtesy of the folks at Northside Toyota on Great Northern Road.
Luckily the Sienna has plenty of storage room for the family of five to travel home with all their Christmas loot and all those diapers, too.
"The family of five will be travelling back to White River in their new All-Wheel Drive Toyota Sienna with the back filled with diapers courtesy of Northside Toyota," said Mario Palumbo, Northside Toyota Dealer Principal today. "Northside Toyota would like to congratulate the Best Family with the arrival of the Sault's first New Year's Baby."
Northside Toyota was kind enough to share a few shots of the family picking up the new Sienna and all the diapers.