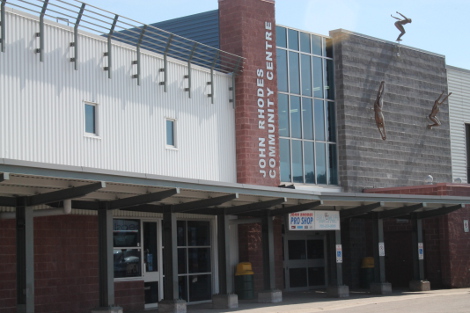 Critics of city council's plan to relocate the Sault Ste. Marie public library's Churchill Plaza branch to the John Rhodes Community Centre have begun to speak out.
The plan would see the branch moved into the space currently leased at the Rhodes Centre by Chilly Willy's Sports Bar & Grill.
Once the bar and grill's lease expires this fall, the city plans to spend approximately $1.5 million on renovations and new equipment for the library branch's new location.
The branch would open in early 2015.
The relocation plan was approved by the majority of council members present at a caucus session of city council August 11, and will be brought to council as an information item at its September 8 open meeting.
Chilly Willy's owner Jody Wilson, who was hoping for a lease renewal, has expressed his disappointment, stating that his business should not be removed for the sake of accommodating a city service, adding that he is a rent payer who employs 15 to 25 people at the bar and grill.
Not every council member is comfortable with the idea either.
"I support Mr. Wilson, he employs people and pays taxes…I think this is all happening too quick," said Terry Sheehan, ward two city councillor, speaking to SooToday.com Friday.
"We need to take some time and take a look at any other options, such as the library to be located in an extension to the Rhodes, or maybe in one of the old schools that are vacant in the area, like Sir James Dunn or St. Mark's," Sheehan said.
Sheehan also suggested provincial or federal funding could be sought to help build a new branch, as an extension to the Rhodes or at another nearby site.
Sheehan said he would like to bring the issue up for discussion at council's September 8 open meeting, adding he would like to see Wilson attend.
Sheehan said Chilly Willy's presence at the Rhodes Centre is an added benefit while sports events are being held at the facility.
Councillor Susan Myers, Sheehan's ward mate, was not present at the caucus meeting, but told us she has spoken with Wilson and that she is "very unhappy with how this is unfolding" and is urging Wilson and other opponents to attend council's September 8 meeting.
Myers said she hopes to pen a resolution with Sheehan concerning the issue and discuss it September 8.
"I will very much be looking for answers at that meeting," Myers said.
Myers said she supports relocating the Churchill branch, describing it as being currently located in an "obscure, hard-to-find" location.
"The problem is where to put it."
Myers said the branch could still be relocated to the Rhodes Centre in some way, but not at the expense of a business owner.
Steve Butland, ward one councillor, said "I don't think anybody anticipated the push back on this decision, and the perception is that any decision made in caucus is always suspect, that things are being done behind closed doors."
The decision was made in a caucus session because it was a legal matter regarding renewal of a lease at a city-operated facility, city CAO Joe Fratesi told SooToday.com Thursday.
Nevertheless, Butland said he will be sending an email to Mayor Debbie Amaroso and city councillors indicating that the issue, whether the caucus decision stands, is reversed, or other options looked at, should be discussed at a public city council meeting.
"We have ample time before September 8 to put it out there and I'm hoping council will agree with that," Butland said.
"Let's do it in the appropriate forum, at council, because I'm absolutely assured that not all the information, both pros and cons, is out there."
Presentations were given by the library board and Chilly Willy's owner Jody Wilson at the caucus meeting in regards to how the space could be used best, as Wilson's lease expires October 1.
The majority of council members at the August 11 caucus meeting decided, after looking at information provided by the city's finance department, that moving the Churchill branch to the Rhodes Centre would save the city from paying $95,000 in rent annually to the owners of Churchill Plaza, and that the annual savings would eventually offset the $1.5 million cost of renovations for the branch's new location.
It is also expected by council and the library board that the number of visitors to the branch would significantly increase with the move, and provide visitors with a chance to spend some time at the library after dropping their children off to events at the Rhodes Centre.