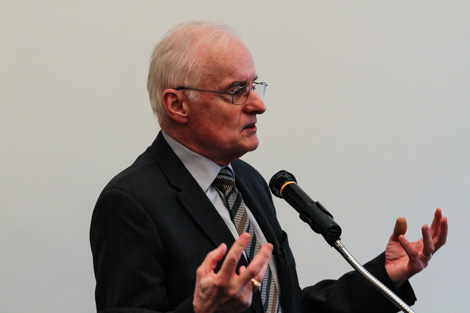 Solving issues of crime in the Sault's downtown area is about inclusion and engagement, says Community Justice Consultant Hugh C. Russell (pictured).

During a presentation of the Downtown Dialogue Action Project hosted last week by the Sault Ste. Marie Police Service, the NORDICK Institute, and the John Howard Society, Russell stressed that the solution is not about enforcement but rather the development of community strategies in marginalized neighbourhoods.

"A lot of us have always thought: 'Bad people commit crimes… Remove the bad people and everything will be fine'," he told SooToday.com. "What we're failing to acknowledge is marginalization creates desperation among people who have to satisfy the needs and demands of life in ways that those of us that are not marginalized are doing in a healthier and less criminal fashion."

Citing a quote attributed to a crime analyst with the Sudbury Police Service - "Crime is a symptom of social exclusion. Disadvantage does not necessarily lead to crime" - Russell explained that these marginalized citizens are not excluded by intent.

Crime and marginalization are indicators of our broken social fabric, and that creates fear of one another.

Rekindle that fabric, create a sense of neighbourhood, and encourage citizens to care for one another, and crime in historically marginalized areas will decrease without the need for increased law enforcement.

"Social development agencies are also the people themselves," said Russell. "We have to truly believe that they are assets and they can contribute greatly to the success of these missions. Often that means we have to defer to them."

Statistics show that listening to an offender's side and determining the root cause of the offence reduces the chances that the perpetrator will return to their previous pattern of behaviour, he said.

Russell is encouraged by the development of the upcoming Sault Ste. Marie Police Service satellite office on Gore Street - the Neighbourhood Resource Centre - which will partner with a number of other community agencies.

Similar examples in other communities have shown positive results and increased public perception of police and participating agency legitimacy.

"Readers in the Sault should be very grateful that this Police Service has made that transformation from just tough on crime - that over-simplification does not work and contributes tremendous expense - to smart on crime, and that's engaging community partners," Russell stated.

The Downtown Dialogue Action Project researchers consulted with approximately 1,000 area residents, businesses and community partners to determine the steps required to develop and implement the revitalization of Sault Ste. Marie's downtown core.

The goal is to improve the attractiveness and overall quality of life for downtown residents, businesses, visitors, and organizations.

Crime reduction and inclusion are integral components of this project.

The Downtown Dialogue in Action has engaged the community in actions that have shown progress, such as:
Jamestown Flower Bomb community beautification project
Graffiti Reframed Strategy to foster young artists for participation in the creative economy
Soup Ste. Marie crowd funding event in support of social innovation projects in the downtown
Restorative Justice train the trainer of staff members from the Sault Ste. Marie Police Service, the John Howard Society, NORDIK Institute, the Algoma District School Board as well and the Huron Superior Catholic District School Board
Support for the development of harm reduction kits for distribution by the Coalition of Women in Numbers
Support for social enterprise development in the downtown
An encore presentation of last week's Downtown Dialogue Action Project forum, Crime Prevention Through Social Development Final Report, will take place this evening at the Grand Gardens, 68 Dennis Street, at 7 p.m.

Everyone is welcome and encouraged to attend.