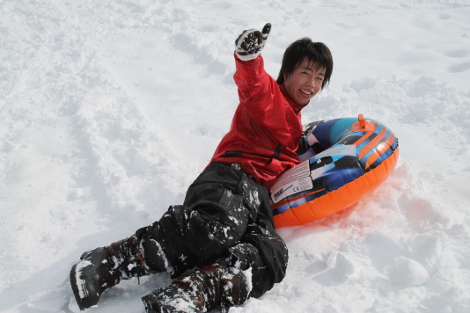 It's a crash course in Canadian culture.
Professor Katsuhiko Matsukawa of Kyoto Sangyo University (KSU) of Japan and 19 KSU students arrived in Sault Ste. Marie February 16 for a three-week stay, to take part in a full schedule of cultural and recreational activities.
The three-week adventure has been organized by Algoma University.
The Japanese visitors are staying with host families in Sault Ste. Marie.
"We have no such snow in Japan!" exclaimed Professor Matsukawa, speaking to SooToday.com at Finn Hill Saturday, as he and his group enjoyed tobogganing for the first time.
The students clearly had a great time, smiling for SooToday.com cameras as they went down Finn Hill's slope, laughing and yelling cheerfully.
Some students went airborne upon hitting bumps on the slope, and there were some impressive wipeouts (no injuries, fortunately!).
Algoma University English as a Second Language (ESL) Instructor Andrea Miller told us "we brought the KSU students out here to enjoy some winter activities like tobogganing, some students are building snowmen. It's a great introduction to Canadian winter and Canadian life."
The students are in their first year of international studies at KSU.
Miller told us "the students went to Tarentorous School for their first school visit last week, where they did Origami and showed the children how to do some writing in Japanese lettering. We're going to the Finnish Resthome Wednesday, where everything will be Japanese-themed. We'll be going to Hiawatha to do some cross-country skiing and snow shoeing as well."
The students, who have been studying English for six years and converse very well, will also take part in volunteer work, helping out at locations such as the Soup Kitchen and Salvation Army.
Professor Matsukawa told us the biggest difference he has noticed in Canada is that people stop and say 'hello.'
"In Japan, it is so busy, more formal. Relationships are closer here. Here it is very friendly, good relationships between people."
Professor Matsukawa's academic specialty is Polish History, and is staying with a family of Polish-Ukrainian heritage.
Of Canada's multicultural society, Matsukawa says, "it is a mixed culture. It is very nice."