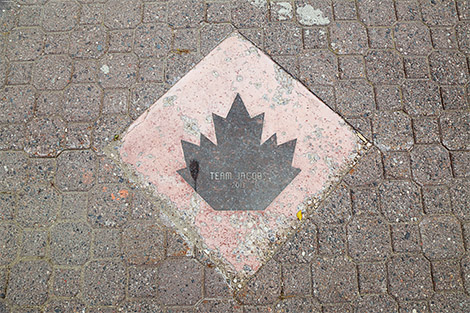 The city's latest inductees to the Sault Ste. Marie Walk of Fame were presented with their sidewalk marker last week, but those monuments may not be on the ground for much longer.

Plans have been presented to move the markers to the exterior walls of the Essar Centre.

"It's in the works," said Tasha Varpio, manager of the Sault Ste. Marie Downtown Association.
The sidewalk markers are in the shape of a maple leaf and engraved with the names of prominent Saultites and situated on Queen Street directly in front of the Essar Centre.

Many of the current sidewalk markers, including ones presented just last year, are damaged, she said.

"Being in the ground, they are covered in snow a good chunk of the year. With the snow removal they are getting damaged," said Varpio.

Ward 2 Councillor Susan Myers, who sits on the Walk of Fame Committee, said she agrees.

"With the weather that we have it is less than ideal to have these things on the ground," said Myers.

Myers sits on the Walk of Fame committee, who have been looking at this problem for some time.

EPOH completed a scoping report at the request of the committee, which was received by council in January 2013. At the time of the report there were 36 markers in total.

The report offers three different options for the movement of the leaf sidewalk markers with a total cost of between $70,000 and $175,000.
"Bottom line is we'll need to put it in the budget for 2015 if the new council so desires," said Myers.

"I think the stones are a great idea, people love them. We just don't have the climate for them (in the ground)," said Varpio.
(PHOTO: Sault Ste. Marie Walk of Fame sidewalk marker for Team Jacobs seen September 22, 2014 on Queen Street. The marker has been damaged due to climate and snow removal efforts, despite having been there since 2013. Kenneth Armstrong/SooToday)