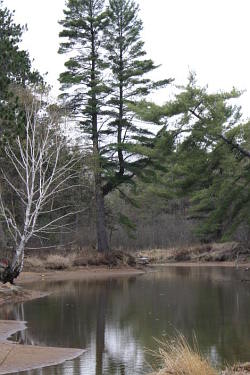 City Council, in a 7-4 recorded vote, chose not to approve the proposed Pointe Estates subdivision development at its regular meeting Monday.
It was a marathon session, which included presentations of highly detailed scientific reports by environmental professionals in favour of the project and by others who cautioned against it, comments from citizens for and against the subdivision, and questions and comments from Council to the presenters and City staff.
Developers Jeff and Patricia Avery, represented by Sault Ste. Marie lawyer Orlando Rosa and backed by a group of environmental professionals, sought Council's approval to build a 91-lot single detached rural estate subdivision south of Pointe Aux Pins Drive, west of Dalgleish Road, north of Alagash Drive and Pointe Louise Drive.
That area is 102 hectares (252 acres) in size.
The proposed development has long been opposed by a group of residents who live near the area, known as the Pointes Protection Association, led by the group's President Peter Gagnon.
Gagnon, a Pointe Louise Drive resident, is a Registered Professional Forester (RPF) who worked for the Ontario Ministry of Natural Resources (MNR) for 30 years and currently teaches part-time at Sault College.
Gagnon, with Sault Ste. Marie, Michigan-based hydrogeologist Frank Breen, made presentations Monday, along with comments from concerned area residents.
Breen stated, both in his report to Council Monday and in speaking with SooToday.com, that he is neither opposed to or in support of the development, but from a professional viewpoint, felt the project posed potential risks both to the area and nearby residents that Council needed to consider.
"The appropriate studies need to be done to avoid E. coli in the 91-lot subdivision. That information has not been provided," Breen told Council.
The Pointes Protection Association has long maintained the development would harm the quantity and quality of the water supply in the Pointe Estates development area, including the St. Mary's River, and therefore affect residents who live nearby.
Gagnon pointed to a 1962 decision by the Ontario government against a larger proposed project for the area, which described the wetlands area as inappropriate for development.
Gagnon stated Monday: "75 percent of the proposed lots are in Sault Ste. Marie's flood plain," adding the Pointe Estates subdivision would have led to loss of vegetation and wildlife typically found in the area (such as moose and deer), noise pollution (from the nearby Sault Ste. Marie Airport) and stagnant water.
The water in the area, Gagnon said, is highly susceptible to contamination.
"It's a huge weight off," a clearly relieved Gagnon told SooToday.com in referring to Council's decision.
"I think there were too many questions, too many risks to take that chance, to ruin it for the 150 people who live out there already just to support this development," Gagnon said.
"Council acted responsibly. They took the high road," Gagnon told us.
Voting against the proposed subdivision Monday were Mayor Debbie Amaroso and City Councillors Susan Myers, Joe Krmpotich, Marchy Bruni, Paul Christian, Rick Niro and Steve Butland.
Voting in favour were City Councillors Pat Mick, Lou Turco, Frank Fata and Brian Watkins.
City Councillors Terry Sheehan and Frank Manzo were absent.
Manzo has been a vocal opponent of the project at both City Council and Sault Ste. Marie Region Conservation Authority Board meetings.
Councillors Christian and Niro called for a postponement of the vote, asking for further study on items such as clay depths and the possibility of stagnant water issues, but that motion was defeated in a separate 7-4 vote.
Mayor Debbie Amaroso told SooToday.com: "We asked 'will this affect our environment?' We heard 'yes,' we heard 'no.' I didn't get a level of comfort that would have put me in a position to support it."
"These were highly technical studies we heard, and you have to have a certain level of expertise to decipher the information and to come to a decision with confidence. I couldn't come to a decision with confidence on either side, so it's better to be cautious."
"It was a very gut-wrenching decision," Amaroso said.
"It isn't a matter of being pro-development or pro-environment. It's not about that. It was about the development at what cost, and were we prepared to live with those costs. That's what the decision ultimately rested on."
Lawyer Orlando Rosa promoted the Pointe Estates subdivision as "a showcase development" which would create construction jobs and add to the City's tax base.
Rosa, accompanied by engineer Peter Richards of Sudbury's Waters Environmental Geosciences Ltd. and other professionals, said no less than 21 studies had been carried out in favour of the development.
Rosa added: "You can spin this 12 different ways, but these are not provincially significant wetlands."
While the MNR indeed classifies the area's wetlands as "not provincially significant," it was clear to the majority of Council the wetlands are significant enough.
Also of concern to several Councillors was the fact that the City's Official Plan would have to have been amended for the project to proceed, along with questions of 'who will pay' if the Pointe Estates project had proceeded and caused environmental damage.
City Planning Director Don McConnell told Council that City staff had been careful, in writing a lengthy report recommending the project's approval, to include no less than 12 conditions.
One of those conditions would have required the developer to provide a detailed development plan from a qualified engineer, including recommendations of studies supporting the application, and that all construction be done under the supervision of a qualified engineer under a regular monitoring program.
In the end, caution won in Council's vote Monday.
The applicant still has the option to appeal Council's decision to the Ontario Municipal Board (OMB).
Meanwhile, a legal challenge against the Sault Ste. Marie Region Conservation Authority Board's December 2012 decision to approve the Pointe Estates application will still go to provincial court in Sudbury in October.
That legal challenge from the Pointes Protection Association, led by Sault lawyer Helen Scott, claims the Board exceeded its authority in its decision.
The Sault Ste. Marie Region Conservation Authority Board will hold its regular monthly meeting Tuesday.