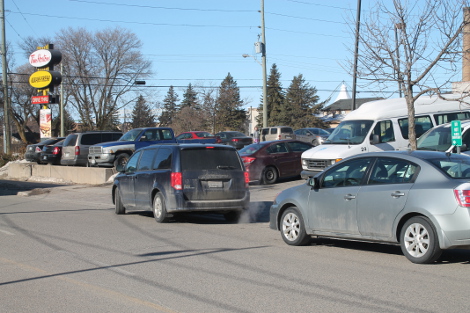 Could Sault motorists get slapped with a fine and demerit points for taking up space on roadways if they are in an extra long Tim Hortons drive-thru lineup?
RCMP in Fort McMurray, Alberta are now handing down $172 fines and demerit points to motorists stopped on the road waiting to make the right hand turn at a busy Tim Hortons drive-thru in that city.
Police have also put up "no stopping" signs as a reminder.
RCMP say such lineups cause a traffic danger, and want motorists to use the Tim Hortons parking lot or park on a side road instead.
Could such a thing happen in the Sault?
After all, at least two Timmie's drive-thru locations, one at Bay and Brock Street and another on John Street, have been known to have long lines of customers in vehicles backed up on to roadways.
"I've heard some complaints, not recently, but a couple of years ago I had one or two complaints (in regards to the Tim Hortons drive-thru at Bay and Brock) …but waiting to turn right is not a violation of the Ontario Highway Traffic Act," said Sgt. Ray Magnan of traffic services with the Sault Ste. Marie Police Service.
"A by-law could be passed, but that would be up to city council."
A by-law would involve erection of an official "no stopping" sign and motorists could receive a fine for disobeying that sign, Magnan said.
While motorists would receive a fine, they would not receive demerit points, Magnan said.
Concerned citizens would have to place a call to their city councillors if they would like to see such a by-law enacted.
"I have no recollection of that being raised since I've been city clerk (since 2010), no one has raised it at a city council meeting," said Malcom White, city clerk.
Nevertheless, "that's where I would start, if I was somebody concerned about this, direct it to their city councillor," Magnan said.
(PHOTO: The Tim Hortons drive-thru at Bay and Brock Streets, where long line-ups of motorists waiting to place their orders often back up on to Bay Street, tying up traffic. Darren Taylor/SooToday)