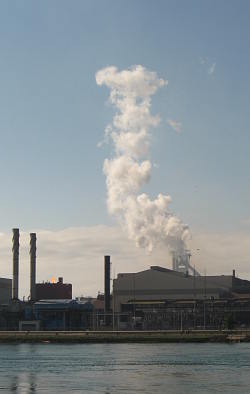 A prominent Canadian steel analyst forecasts "some interesting and mostly positive signs" for the steel industry in 2014, and Essar Steel Algoma in particular.
Peter Warrian, a professor at the University of Toronto's Munk Institute for International Studies, said this week that there were a couple of "wildcards" that could prove "an important piece of good news" for the Sault steelmaker.
Forecasted growth in non-residential construction, and a huge demand for new rail infrastructure could prove beneficial for Essar because of its plate-making capacity.
"I think the plate side will out-perform the general steel market," Warrian said. "The same companies who produce plate for the non-residential market also do plate for rail cars, and that could lift things substantially."
He noted that because of delays in the proposed Keystone pipeline, oil was being transported by rail.
"The number of rail cars shipping oil has gone from 4,000 to 400,000 in 18 months."
New government safety standards are also driving the demand for new rail cars, he said.
Another promising trend for North American steel manufacturers is that in 2014 the demand for steel in China would lag behind the rest of the world for the first time in a decade.
"Steel growth in China this year will be three percent. The rest of the world will be 3.5 percent."
China is reducing significantly its steelmaking capacity, as the government shifts its focus from infrastructure construction to more "consumer oriented" policies, Warrian said.
He cautioned, however, that when it comes to steel pricing in the marketplace the steel industry would continue to face "a real challenge" in 2014.
"I don't have individual company books, but I do know the capacity utilization is bouncing between 76 and 77 percent as an industry average," Warrian pointed out. "The importance of that is unless they increase the capacity utilization to between 81 and 83 percent they can't get sustainable price increases."
Capacity utilization is an economic indicator that refers to the relationship between actual production output and the potential output if capacity is fully used.
When market demand increases, both production and prices will rise, according to economists.
In its 2013 year-end financial summary, ESAI reported its five-year average capacity utilization (2008-2013) at 83 per cent, surpassing the steel industry average for that time period by 14 percent.
Warrian said, however, unless steelmaking capacity increases industry wide steel pricing would remain unstable this year.
"You see this pattern continuing where there are [steel] price increases and a few months later it slips back. I think that pattern is going to repeat itself. The volumes are reasonable, but there isn't going to be much relief on the price side," he said.
Individual companies may vary, Warrian said, but steelmakers generally "are still going to be struggling with cash".
"The volumes are going to creep up, but prices are going to remain a problem because they are still below the levels where companies can, on a sustained basis, be making money," he said.
Warrian also said the lower Canadian dollar vis-a-vis its U.S. counterpart - hovering now about 90 cents - would likely be a "saw off" for Essar, although he admitted he did not have the company's spreadsheets.
"The lower Canadian dollar makes Canadian export manufacturers more competitive, but on the other side, if you are importing raw materials from the U.S. and paying in their dollars, that is an added expense."
Warrian noted that steelmakers like Essar have to import a lot of iron ore, coke and scrap from the U.S. and pay in U.S. currency, and that would be a pressure point.
The crisis in the Ukraine and Crimea also could have a ripple effect on North American steelmakers, if it ends up in economic sanctions and pushes European countries back into recession, he said.
"Nobody has a crystal ball, but if the situation gets too out of hand in the Ukraine, you could have a script for a recession in Europe that will affect everybody," he said.
SooToday.com has sent questions to Essar Steel Algoma related to Warrian's analysis, but has not yet received a response.