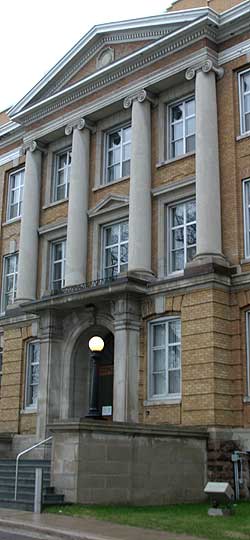 A Coroner's jury delivered a number of recommendations on Thursday following an inquest at the Sault Ste. Marie Court House into the accidental death five years ago of James Robert Vecchio.
Vecchio, 34, a public works employee, died on April 16, 2009 from pelvic injuries suffered when a mobile crane contracted by the city fell on him while he was working at the Fifth Line municipal landfill site.
The owner, Millenium Crane, was fined $70,000 under the Occupational Health and Safety Act by the Ministry of Labour for failing to properly maintain the piece of equipment in July 2013.
The coroner's jury made nine recommendations, five to the city, and two each to the Ministry of Labour and Transportation.
Paul Beauchamp, president of CUPE Local 3, which represents outside city workers, applauded the recommendations in a release issued Friday and pledged to work to ensure the recommendations are implemented.
He also spoke of how difficult it was for union members who were on site the day Vecchio died to testify at the inquest.
"They lost a friend, a co-worker that day. They know his family lost a dad and a husband. They understood how important it was to get to the bottom of what happened so that everyone can do what's needed to make sure this never happens again," Beauchamp said.
Recommendations to the city include: drafting and implementing a by-law that would require mobile crane operators to provide an annual mechanical fitness certificate under the Highway Traffic Act before their operation would be allowed on city roadways; only contract with companies or individuals who "fully comply" with the existing provisions of the Contractor Safety Responsibilities Guide "to ensure equipment maintenance and worker safety"; scheduled reviews and updates to that guideline; and routine meetings with contractors and third parties to ensure proper work site rules are understood and enforced.
To Ontario's Ministry of Labour, the jury recommended that workers be removed from any excavation site while cranes are being positioned, and that the Occupational Health and Safety Act be revised to ensure workers have a minimum of two ways to either enter or exit a job site where "physically possible".
The jury also recommended that the Ministry of Transportation revise the current definition of "commercial motor vehicle" to include mobile cranes so that annual inspections and certification are required.
On a related point, they suggested that the "annual permit" require proof of mechanical fitness from a certified truck and coach mechanic.
*************************
Previous SooToday.com coverage:
Inquest into the death of James Vecchio announced