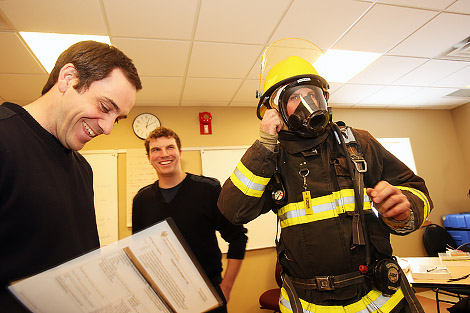 There are some things you just don't see every day.
Like a police officer wearing a firefighter's suit.

Const. Brad Baber was one of two Sault Ste. Marie Police Service officers who joined Haz-Mat and Chemical Biological Radiological Nuclear and Explosive (CBRNE) training at the request of Sault Ste. Marie Fire Services.

"It's great for us to have the opportunity to come here today, to take what we've learned the last three days and bring some of it back to our department," Baber said. "Oftentimes we'll get the same calls the firefighters get and we may get there first, so a lot of what we learned could be very applicable to our job."

For firefighter and Ontario Provincial Fire Fighters Association (OPFFA) Local 529 president Rob Greve, asking the police service to participate in hazardous materials training just made sense.

"Any time we have inter-agency involvement like this, it just strengthens our teamwork and get us on the same page," said Greve.

Over three days, the participants spent a total of 24 hours of in class, reviewing procedures and responding verbally to theoretical scenarios presented by the visiting International Association of Firefighters (IAFF) trainers.

In addition to the time spent in class, a practical mock-scenario was set up in the station that simulated a victim who needed to be rescued from the scene of an industrial accident involving a chemical spill.

The 23 firefighters, as well as the two participating police officers, suited up in full gear to respond to that scenario.

"This has been a good opportunity to put on their uniform and put on their equipment, to feel the weight of it and how it affects your mobility," said Baber. "It gives you an appreciation for what everyone does."

The IAFF has been travelling across Ontario providing this specific training for over six years at the request of the local fire departments, with partial funding from the federal government.

Some departments have put the information to use immediately.
IAFF trainer Bruce Donig noted that while conducting similar training in Kapuskasing there was a rupture of the TransCanada natural gas pipeline.

"Many of the places we've been doing the training experience an incident within a year of us being there," said Donig.

Although the Sault Ste. Marie Fire Service was already well-trained in responding to incidents relating to hazardous materials, Donig said that you cannot be too prepared for a major incident, such as the Lac-Mégantic derailment in Quebec last summer.

"Sault Ste. Marie is actually quite remote, it's a fairly substantial city but very isolated," said Donig. "Should they have the need for more expertise for a Lac-Mégantic-type spill the 88 firefighters in town will be drawn upon quickly."

An important part of the training focuses on evaluating what resources are available in the case of a major incident involving hazardous materials.

Although agreements exist for local fire services to request assistance from Toronto, those resources could take 24 hours or longer to reach Sault Ste. Marie.

This training pointed out that many local industrial sites may be a good source for chemical foams and other resources that may run out during an incident and that it is important to know what is available before it is needed.

"We encourage them to now go out and engage the industries in town and find out what they have on-hand," said Donig.

While travelling, Donig has noticed one pattern in every community where they do the training scenarios.
"It's funny, but the police officers always want to be on the hoses."
(PHOTO: Firefighters Rob Shaughnessy and Neil Brockelbank react as Sault Ste Marie Police constable Brad Baber is suited up in full protective firefighter gear during a training exercise March 26, 2014. SooToday.com/Kenneth Armstrong)