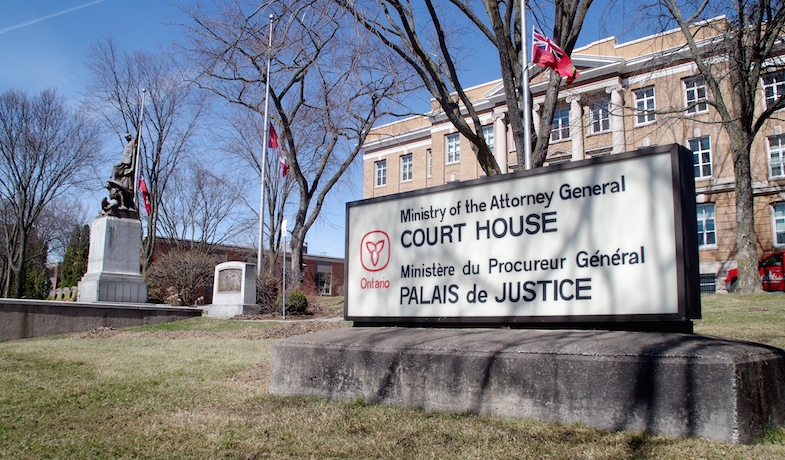 An Algoma District man, who told a judge Wednesday that he has been smoking grass since he was nine years old, was sentenced to nine months jail for trafficking marijuana.
John Hilson, 60, of Spanish, pleaded guilty to two counts of trafficking under the Controlled Drugs and Substances Act when he appeared in a Sault Ste. Marie courtroom.
He also was convicted of a Criminal Code offence for missing his first court date in Blind River on Oct. 9, 2014.
His wife, Catherine Hilson, 55, will serve 60 days under house arrest for possession of marijuana and failing to attend court.
The couple was charged after an undercover Ontario Provincial Police officer purchased drugs from them at their home in Spanish, a town located 190 kilometres east of the Sault.
Superior Court Justice Michael Varpio heard the constable was involved in Project Coldshore, an investigation that targetted drug trafficking in the northeast region.
On June 19, 2014, the officer purchased 1/4 ounce of marijuana for $60, federal prosecutor Roland Aube said.
A couple of months later on Aug. 27, the officer returned to the residence, where he bought 1/2 ounce of marijuana for $120 and 1/4 ounce of cannabis resin for $80.
That same day, the drug unit executed a search warrant at the couple's home and charged the pair with numerous offences.
When police searched the home they found $220 in cash, a quarter pound of cannabis resin, valued at $2,500, 15.5 grams of hashish, worth $320, and seven grams of marijuana, valued at $90, Aube said.
The currency used by the officer to purchase the drugs was located in a drawer, along with some marijuana and scales.
The Crown and defence lawyer Trevor Simpson jointly recommended the custodial sentences of jail for John Hilson and house arrest for his wife, who unlike her husband, has no prior criminal record.
"He's been involved with this for some time," Aube said, telling the judge he had been given a serious break in 2012 when he received a conditional sentence, which is served in the community, for production of a controlled substance.
"He's back again and it's his choice to be here," the prosecutor said.
"The quantities are not huge, but trafficking is trafficking," Aube said, adding that if Hilson comes back to court again he'll be facing new federal mandatory minimum sentences.
Simpson said both of his clients have been receiving treatment for medical issues for years and Hilson had indicated he self-medicated with marijuana.
Hilson told Varpio he suffers from a number conditions, including arthritis, a bad back, and a "shot knee," along with a fatty liver and other internal issues, most of which are from the use of pharmaceutical drugs, such as heroin.
These drugs are "put down you to try and kill the pain," he said. "It's killing me."
When he imposed the sentences, Varpio said he was dealing with two people involved in the marijuana industry and trafficking.
"This is your second time up in three years for production and trafficking," he told Hilson. "There are needs for specific and general deterrence for offences like this."
While huge sums were not involved, $3,000 worth of drugs was found at the residence and that's "not an insubstantial amount," Varpio said.
He noted Catherine Hilson came "before the court with clean hands" while her husband has "not the worst record for this kind of things" but has a record.
"When I factor in all those things into the hopper, when I look at the community and the offences, the joint position (of the lawyers) is in the range."
Telling the woman she didn't "appear to have been a major player in this endeavour," Varpio said he didn't want to see her back in court again.
However, "your situation is different and a custodial disposition served in an institution is necessary," he advised Hilson.
Varpio recommended that Hilson serve his time at the Algoma Treatment and Remand Centre where he can receive treatment for his drug addiction.