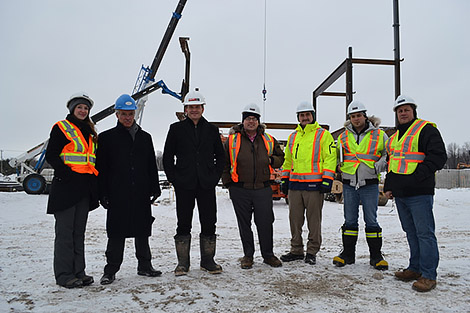 NEWS RELEASE
HURON-SPERIOR CATHOLIC
DISTRICT SCHOOL BOARD
*************************
SAULT STE. MARIE - Construction of the new St. Mary's College remains on schedule, thanks to yet another milestone moment.
Earlier this week, steel beams were erected at what will be the southeast corner of what will soon be Sault Ste. Marie's newest secondary school.
General contractor Tambro Construction Ltd. (TCL) has assured the Board that they are on target for an August 2015 completion date.
"It has been great to work with a general contractor and our architectural consultants at EPOH here in Sault Ste. Marie which both have vast experience in projects of this nature and magnitude," said Huron-Superior Catholic District School Board (HSCDSB) Plant Manager, Sam Colizza.
Workers at the site, which sits at the intersection of Pine Street and Second Line East in the northeast corner of Sault Ste. Marie, have endured extreme temperatures and have overcome adverse weather conditions over the past two months to keep the project on track.
"There have been challenges over the past couple of months but our team has come together and worked diligently to ensure that our timelines are met in all facets of the project," said TCL Operations Manager Nathan Tami.
"We are seeing something new on a daily basis. I appreciate the determination of the general contractor and sub-contractors to keep this project on target. August 2015 will come quickly and we follow the progress on the new St. Mary's College with great interest," said HSCDSB Director of Education, John Stadnyk.
The new St. Mary's College is scheduled to open its doors to students and staff in September 2015.
The public can follow the progress of construction of the new school at http://newschools.hscdsb.on.ca/.
*************************
Pictured left to right: Jeanette Biemann EPOH Principal, John Stadnyk HSCDSB Director of Education, Nathan Tami TCL Operations Manager, Ryan Crowle EPOH Principal, Sam Colizza HSCDSB Plant Manager, Bryce Gavin EPOH Administrator, Wade Seguin EPOH Project Administrator