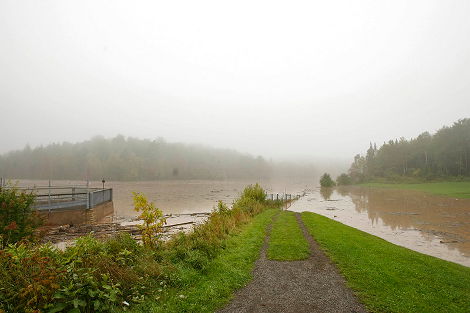 Weather conditions for a controlled melt have been perfect so far this spring, said Rhonda Bateman, general manager of the Sault Ste. Marie Region Conservation Authority (SSMRCA).
"The snow is starting to melt at a slow pace. If it continues like this I will be happy," said Bateman.
Warm days followed by cold nights are perfect conditions for the melting snow, with windy days aiding in the evaporation of the snow, said Bateman.
Although the snowpack has absorbed much of the rain we have experienced in recent weeks, Bateman said in the near future we should expect the rains and melting snow to create more runoff.
Bateman said many of the smaller creeks and rivers are now open and flowing, but many of the larger rivers are still covered with ice and snow and she expects the water levels to start rising slowly.
Although at times last year the spillway at Fort Creek broke its banks, Bateman said it is designed to do so.
The dam at Fort Creek was designed to retain run-off until the flows downstream have subsided.
At that point, the spillway releases water at a controlled rate, eventually making its way to the St. Mary's River.
In addition to Fort Creek, the SSMRCA also manages four other flood control channels, located at Bennett-West Davignon, Central Creek, Clark Creek and East Davignon.
According to the SSMRCA website, watershed conditions are currently at normal status, though they do extend a warning to use caution when near rivers, creeks and streams and to keep children and pets away.
The Fort Creek spillway is pictured in this 2013 file photo. Ken Armstrong/SooToday.com
*************************
NEWS RELEASE
SAULT STE. MARIE REGION CONSERVATION AUTHORITY
*************************
The Sault Ste. Marie Region Conservation Authority would like to issue a statement to residents in regard to current watershed conditions.
Spring has been a long time coming to Sault Ste. Marie but melting of the snowpack has begun.
The best weather conditions for a slower snowmelt are moderate daytime temperatures followed by freezing temperatures during the night.
The weather forecast over the next few days indicates a continuing warming trend with freezing temperatures overnight.
There is a chance of precipitation during the remainder of the week but significant rainfall amounts are not currently forecast.
The snowpack in the watershed contains a large amount of water equivalent and the slow thaw that we have been experiencing has assisted in decreasing the depth of the snowpack and some of the water equivalent.
Water levels in local rivers have begun to increase but are well below flood levels.
Water levels will continue to increase as melt progresses.
The flood control channels owned and maintained by the Sault Ste. Marie Region Conservation Authority are flowing and melt water is entering the system.
As melt continues and anticipated rainfalls are received, the flood control channels will experience a rise in water levels.
It is important to remember that the water in rivers, streams and the channels is extremely cold and fast flowing waters are dangerous.
The Sault Ste. Marie Region Conservation Authority will be closely monitoring stream flows across the watershed.
The Sault Ste. Marie Region Conservation Authority would like to extend a warning to residents and visitors to use extreme caution when close to rivers, creeks and channels.
Potential increases in water levels and flows can be especially dangerous and stream banks can be slippery.
Please keep children and pets away from fast flowing rivers and streams.
This statement is in effect until Friday April 11, 2014.