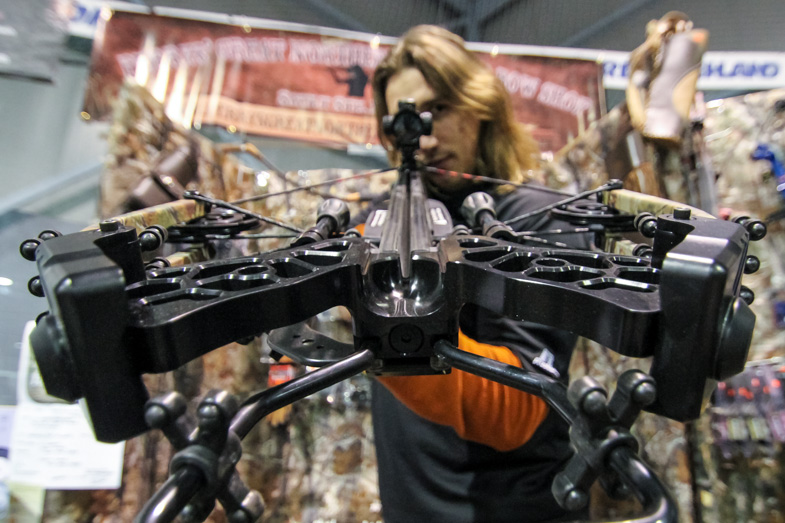 Jacob McEachern of Perry's Gun and Bow Shop was spotted getting in touch with his inner Daryl Dixon at the 2014 Spring Expo last evening.

Presented annually by the Sault Ste. Marie Chamber of Commerce, the event brings together area businesses, organizations, and service providers to the John Rhodes Community Centre for three days of warm weather preparation.

SooToday.com was intrigued by McEachern's fancy TenPoint Vapor crossbow, so we decided to test it out for ourselves.

He told us the bow is notable for its carbon fibre barrel which produces better balance making it more comfortable to use.

We discovered after shooting a fake bear in the butt that although crossbows enjoy a reputation of being somewhat badass, they're actually quite easy to use.

McEachern explained that once the bow is cocked, even individuals with physical limitations or mobility issues can easily fire a crossbow.

In comparison, recurve bows require a great amount of strength to draw and hold the arrow in position while trying to maintain accuracy.

Somewhere in the middle is the compound bow which involves some effort to draw the arrow, but holding the position is far less challenging.

"Many hunters appreciate the challenge of bow hunting over using a rifle," McEachern said. "Your range is really limited and you have to be quite precise with estimating yardage. If your game is at 30 yards away and you thought it was 40 yards, you're not going to have a good day."

"There's an interesting ethical divide where some might say a recurve bow is more sportsman-like, but with a crossbow, I know my game is going down quickly and not suffering," he continued.

For anyone interested in learning the ins and outs of archery, Lana Perry will be hosting an Archery Boot Camp at the Algoma Rod and Gun Club (226 Connor Rd.) on Sunday, April 27.

For more information about this event, click here or contact 'Lana Perry Archery Coach and Instructor' via Facebook.

Perry's Gun and Bow Shop was just one of more than 100 exhibitors taking part in the 2014 Spring Expo.

The event continues at the John Rhodes Community Centre today (Saturday, March 22) until 6 p.m. and Sunday, March 23 from 10 a.m. to 4 p.m.

For more information about the Spring Expo, please click here.