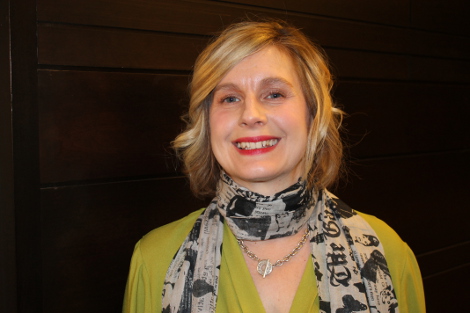 March 8 marks International Women's Day.
Accordingly, the Business and Professional Women's Club (BPW) of Sault Ste. Marie honoured six local women who have contributed to the community throughout their lives and careers at its annual Women's Week Banquet, held at the Delta Sault Ste. Marie Waterfront Hotel Thursday.
The local branch of the BPW selects six honourees annually, each one of a group of five named Woman of the Day (for Monday through Friday of Women's Week) and one Woman of the Week.
The 2014 Woman of the Week is Lisa Vezeau-Allen (pictured), Executive Director of the Arts Council of Sault Ste. Marie and District and volunteer with Children's Rehabilitation Centre Algoma (CRCA) since 2006, and is well aware of the importance the arts sector plays in a community.
This year's honourees included Vezeau-Allen, Jill Morris (Justice of the Peace, former social worker and Algoma University professor), Melinda Thomas (Meals on Wheels), Jo-Anne Brooks (President, Eazy Express), Mary Borowicz (recently retired from Algoma Central Properties, former City Councillor) and Connie Carello (entrepreneur, CC Communications).
Speaking to SooToday.com, Vezeau-Allen said: "I was in the middle of a meeting (when she was informed she was chosen as the BPW Sault Ste. Marie 2014 Woman of the Week)…it was very humbling, it's amazing."
Artistically, Vezeau-Allen has theatre experience, and is now a writer.
She has two blogs and is currently writing a book concerning her experiences as the mother of an autistic son.
"It's very much a personal and practical journey living with autism."
Of her involvement with the Arts Council, Vezeau-Allen said: "There are lots of amazing projects going on, such as the Graffiti project, employment opportunities in the arts sector working with the Sault Community Career Centre and Sault College, the Cultural Corridor…there are things popping up all the time."
"One of the things I'm proud of is that I have three sons who know that women are equals and can do anything…they were very excited and said this is the best start ever to the March Break, that their mother was being honoured tonight."
BPW Sault Ste. Marie President Sharon Graham said: "It's tough selecting (women nominated to be honourees) because they've all done so much."
"We're constantly amazed, and they continue to do more and more, and we're so thrilled there are so many great women in our community."
"Our message to women would be keep going strong because there's been a lot of good legislation over the years and some of it seems to be drifting away, we want women to keep vigilant," Graham said.
"We're really concerned about the changes to the numbers in (subsidized) day-care spaces…that's a current issue that's very dear to our hearts."