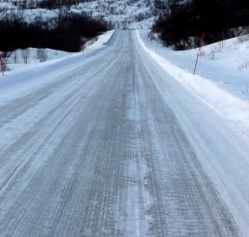 The contractor that provides highway plowing services in the areas adjacent to Sault Ste. Marie is among three companies that have been fined by the Ministry of Transportation (MTO) so far this winter.
According to an MTO spokesperson, Transfield Services is the province's maintenance contractor for the sections of Highway 17 from Sault Ste. Marie north to White River and east of the Sault to Highway 108.
These fines should come as no surprise to Tom Featherstone, who has been unsatisfied with what he says is a lack of plowing that he has seen in the area.
Featherstone has been sending emails since at least November 12, 2013 taking the MTO to task over apparent lack of salting on local highways.
In subsequent emails, which were sent to SooToday as well as Transfield Services and the MTO, Featherstone went on to point out what he felt was a lack of response by Transfield.
In one email Featherstone suggests that a stretch of Highway 523 appeared to him to not have been cleared for over a week.
The MTO website states that during a storm, the public can expect plowing to commence when more than 2 cm of snow or slush accumulate on the roadway and for equipment to be deployed within 30 minutes of a winter storm.
For a low-volume highway, such as Highway 523, the public can expect it to be cleared within 24 hours after a weather event.
It's unclear if Featherstone's concerns resulted in the fines, but the MTO had taken notice of what it called "non-conformance" by Transfield Services.
MTO spokesperson Gordan Rennie said in an email statement: "This winter has seen non-conformances to our outcome targets being imposed in all five maintenance areas leading to financial consequences being issued."
The MTO claims to be constantly moitoring and auditing their contractors, and that fines may not necessarily be the result of public feedback.
"Our area maintenance contracts are lump sum contracts requiring our requirements and standards to be met. In addition to these annual payments, the MTO has invested an additional $9 million this winter to add an additional 55 pieces of equipment across the province to enhanced service for passing lanes and truck climbing lanes," Rennie continues.
Featherstone also pointed out multiple police reports of accidents and fatalities on local highways.
In an Ontario Provincial Police release dated December 30, 2013, the OPP warned of weather conditions after responding to eight motor vehicle collisions on a stretch of Highway 17 east of the Sault.
These collisions were within a 5-hour time frame and Featherstone wondered if any salting had been done by Transfield.
"Would it not be reasonable to assume that there might be a common factor, such as the state of the highway? It isn't likely that all were caused by driver error," wrote Featherstone.
He went on to say: "Was Transfield spreading salt on the highway? I'm not asking if Transfield reported spreading salt on the highway, I'm asking if they actually did."
According to their own website, Transfield Services is an Australian-based company which manages more than 20,000 km of roads globally.
When reached by email Tuesday, a local Transfield Services spokesperson declined to comment about the fines.