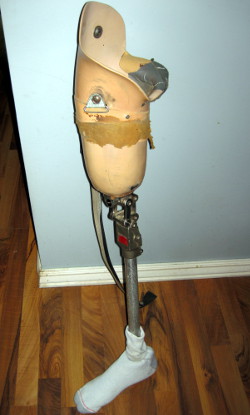 Family members and strangers alike are combing the Harmony Beach area, searching for a young man's missing prosthetic leg.
Rob Fantham said his son, Lloyd, who wears a prosthetic leg as a result of a childhood train accident, was at the beach about three weeks ago with friends when he decided to go in briefly.
The waves were rolling in, so the 21-year-old stayed close to shore.
"He went to move and he noticed the leg was gone," said Fantham.
The group searched for the $30,000 limb, but turned up nothing as the rough water stirred up sand from the bottom.
"I guess (Lloyd) spent three hours in the water himself," said Fantham.
The father rented a wet suit and spent the weekend searching, to no avail.
"I couldn't see anything."
Family members have returned to look in the meantime, but they are now hoping the leg (which is similar to the one pictured left) will wash up on shore and be found.
Colleen Bennett, of Sault Scuba, said she was touched by the story when Fantham came to her to rent a wetsuit and has since been urging fellow divers and anyone else going out on the water or walking the beach in the area to be on the lookout.
"It's such a sad story," said Bennett.
She said she sympathizes with Fantham's son.
"Can you blame a guy for wanting to be like his friends for two seconds?" she said.
She said a friend of hers has done passes of the area with a high-tech side-scan sonar device and plans to go out again soon to look again when he is able.
Fantham said he still holds on to the hope that the titanium appendage has already washed ashore and been picked up by someone who may not realize what it means to his son.
"Maybe they just hung it on the wall and they're just talking about it, joking about it," said Fantham.
He said he is offering a $200 reward for the leg's return.
"I would offer more if I had it, but money is tight," said Fantham.
Anyone who finds the leg is asked to call Fantham at 705-575-0017.
(PHOTO: The Fantham family is searching for a prosthetic leg similar to the one pictured here.)