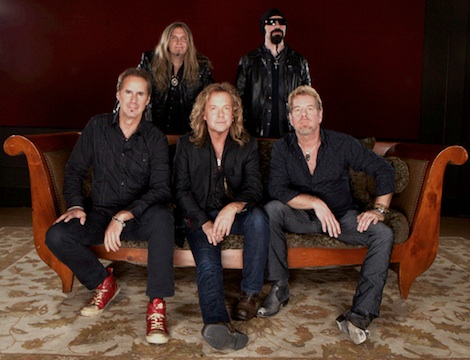 NEWS RELEASE
KEWADIN CASINOS
*************************
SAULT STE. MARIE, MI - Night Ranger continues their non-stop touring schedule in 2013 which includes a stop in Sault Ste. Marie at Kewadin Casinos DreamMakers Theater on Sunday September 22, 2013! John Waite, English musician and former lead vocalist for The Babys and Bad English will open for Night Ranger.

Tickets to this live show go on sale Friday, May 31 at 8 a.m. and are $48.50 and $38.50.
Show will take place at 7 p.m. with tickets available for purchase at the casino's box office, at Kewadin.com or on the casino's Facebook page.

With over 30 years in the business, and more than 17 million albums sold worldwide, Night Ranger has proven they can still "Rock in America"!
Like no other rock band, Night Ranger both epitomized and transcended the sound and style of the 80s.
In 1983, Night Ranger earned widespread acclaim with their multi-platinum album Midnight Madness, which included their smash hits "Sister Christian," "When You Close Your Eyes" and the anthemic "(You Can Still) Rock In America."

On October 22, 2012 Night Ranger released a very special CD/DVD package which was recorded live in an intimate acoustic setting, with a select number of fans, at TRI Studios in San Rafael, CA.
The result is compelling and exciting live renditions of the band's classic hits with new, refreshing arrangements; tracks include "(You Can Still) Rock In America", "Sister Christian", "Don't Tell Me You Love Me" and a timeless cover of Don Henley's "Boys of Summer."

Night Ranger is proof that powerful songs plus accomplished musicians is the perfect formula for continued success. Band members include: Jack Blades: lead vocals / bass; Kelly Keagy: drums / lead vocals; Brad Gillis: guitar / vocals; Joel Hoekstra: guitar / vocals; Eric Levy: keyboards.

John Waite, opening for Night Ranger, has been successfully writing, recording and performing some of the most listenable, enduring and appreciated popular music for more than 35 years. Waite was lead vocalist for The Babys and Bad English and as a solo artist, he scored several international hits, including 1984's "Missing You", a #1 hit on the US Billboard Hot 100 and a top ten hit on the UK Singles Chart.

This is the first performance Night Ranger & John Waite have had at Kewadin in the casino's 27 year history.
For more information, visit here.
*************************