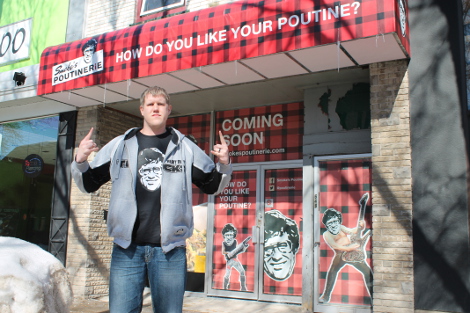 Paul Fowler (pictured) is combining his love of poutine and entrepreneurial spirit as he prepares to open a Smoke's Poutinerie location in Sault Ste. Marie.
Smoke's (which Fowler and wife Mandy, both Sault natives, will operate) is located at 648 Queen Street, next door to Top Hat Billiards, and opens April 7.
"It started with a love for poutine, always loved it, but it was always in the back of my head that we really need a restaurant that's poutine specific," Fowler told SooToday.com.
"I liked every variety of poutine I tried and I thought 'you could do so much with this,' then I found out about Smoke's through a friend."
Fowler told us he looked up Smoke's Poutinerie online in February 2012, contacted Smoke's founder Ryan Smolkin in Toronto, "and the rest is history."
Smoke's Poutinerie, as the name clearly suggests, specializes in poutine.
Smoke's takes the traditional Quebec poutine of French fries, topped with a gravy-like sauce and cheese curds, to a whole new level.
Fowler said: "We use fresh-cut fries, we never use frozen fries, we use Quebec cheese curds and signature gravy, special poutine cheese…Ryan asked people from Quebec to help him develop the sauce, and you can't get it anywhere else."
"The real kicker is all the different toppings," Fowler said.
We contacted Smoke's Poutinerie founder Ryan Smolkin by telephone Wednesday.
You can hear the excitement in Smolkin's voice even as he describes the toppings.
"There was the traditional classic poutine for years, then we took it from being a side dish into a meal and adding all those toppings."
"We've got (as toppings) pulled pork, double-smoked bacon, caramelized onions, nacho grande poutine with guacamole, salsa sauce, sour cream, hot peppers…we've taken poutine to the next level, we own it, we've created this whole new category."
Smolkin launched Smoke's in downtown Toronto in 2008, and since then, the company has grown dramatically.
There are now over 60 Smoke's locations (including the soon-to-open Sault location).
Smolkin told us Smoke's is now expanding into medium-sized communities in Canada (describing the Sault as "a perfect fit"), as well as the U.S.
"We want global domination," Smolkin laughed, and claimed others are now imitating Smoke's.
Smoke's locations are open late, and the Sault location will be no exception, especially for those in the 18 to 25-year-old category.
Locally, Smoke's will open at 11 a.m. daily, closing at 3 a.m. Thursdays, 4 a.m. Fridays and Saturdays, closing early on Sundays at 9 p.m., and at 11 p.m. Monday through Wednesday.
What of the company's boast: "Clogging arteries since 2008!"
Smolkin said: "We're into indulgence, we don't hide it."
"We're being real about it… other restaurants are cutting back on their food, shaving their meat thinner, or skimping on the pepperoni on their pizza, but if you look at our menu, we've got 'Wow-Size.'"
"When people are 18 to 25, which is our core market, they're out on the town and want some munchies."
The local Smoke's Poutinerie, Fowler told us, will employ 15 to 20 people.