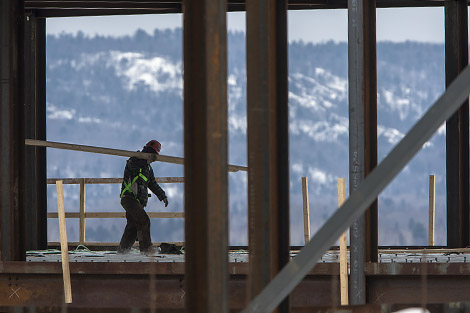 (Photo: A worker is seen carrying lumber March 18, 2014 at the site of the new St. Mary's College, which is under construction on 2nd Line. SooToday.com/Kenneth Armstrong)
The St. Mary's College construction site on Second Line has continued to be a hive of activity this winter, despite concerns that the extended period of cold weather experienced in the Sault would cause a slowdown in productivity.

Sam Colizza, manager of plant at the Hurons Superior Catholic District School Board, updated SooToday.com on the progress of the construction project.

"In spite of the cold weather the contractors and sub-contractors are all on schedule," said Colizza, adding that the expected opening date is July of 2015.

"It's an aggressive schedule, we understand that and the contractors do too," said Colizza.
He said he hopes the pace is kept up until project completion.

Any potential loss of productivity due to the cold weather was offset by the addition of additional workers on-site.

Heaters and a chemical additive have been used to allow the concrete to be poured during sub-zero temperatures.
"The pouring of the foundations and footings are at about 80 percent," said Colizza.

Now that many of the footings have been poured, steel framework has begun to be erected as well as some decking.

Colizza is also looking forward to potential funding announcements for the proposed JK - Grade 12 school to be built on the existing Sacred Heart site in Espanola.
Construction for that project is expected to begin in 2015.