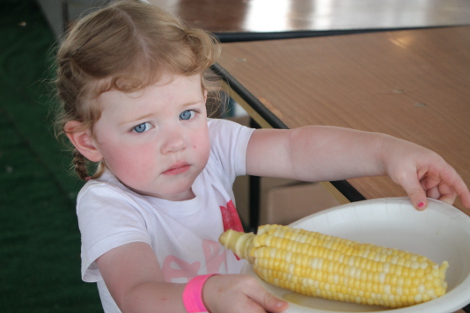 The first annual Cob & Cut event is currently underway in the yard at Mill Square.
The event, which began Saturday morning at 9 a.m. with a ribbon-cutting (rather, a ribbon-chopping ceremony), continues throughout Saturday until 11:30 p.m. with lumber jack shows, live entertainment, food and beverages served up by Santini's Bistro, with more of the same Sunday 10 a.m. to 5 p.m.
The food includes plenty of fresh corn on the cob.
"We all remember growing up in Sault Ste. Marie and going to Cornfest on St. Joseph Island and how much we miss that, how we used to go to Castle Farms in Michigan and we miss that, so this is a re-invent of those events with a local spin on it and brings some of the AlgomaTrad musicians to the venue and really shows our heritage in Sault Ste. Marie and area," said Steve Hollingshead, Destination North manager of special events and product development, speaking to SooToday.
Event planners had been working to bring in St. Joseph Island corn for the event, but due to a lack of rain this growing season, had to bring in corn from Collingwood, Ontario.
"Next year, hopefully, we'll have St. Joseph Island corn," Hollingshead said.
"For $15 a day (for an adult) you get a full day of entertainment, food and beverage tickets are $5 and corn is a dollar, so it's very affordable," Hollingshead said.
Organizers are hopeful of 1,500 to 2,000 visitors for Saturday and Sunday.
Lumberjacks from the West Coast Lumber Jack Show are entertaining the crowds with chainsaw carving, block chopping, axe throwing, pole climbing and more.
Live entertainment includes performers from both the Sault and area and from out of town,
Admission prices are $15 for an adult day pass, $5 for a day pass for a child (12 and under), $25 for an adult weekend pass and $7 for a weekend pass for children.
Cob & Cut sponsors are Destination North, Village Media (SooToday's parent company) Northern Credit Union, Coors, Porter and marketing company 8:56
At the opening ceremony, Ward 2 city councillor Terry Sheehan, acting mayor, said "We celebrate our Canadian heritage in many ways and what we're doing today is a part of it, and I really see this event taking off and continuing to grow."
Tickets are available at the admission gate.
You may also purchase your ticket and get event details at the Cob & Cut website.
(PHOTO: A young corn lover at the first annual Cob & Cut at Mill Square, August 22, 2015. Darren Taylor/SooToday)