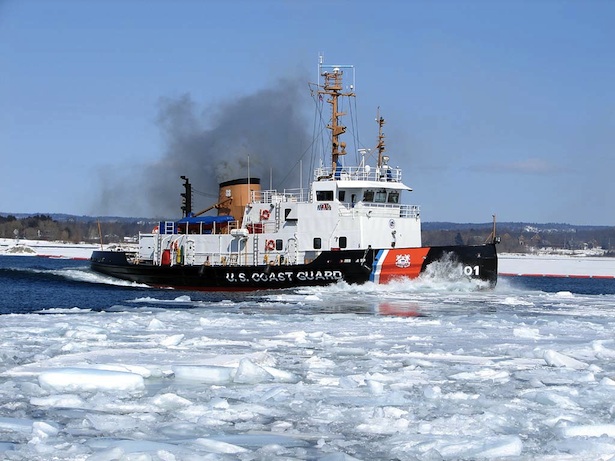 NEWS RELEASE
U.S. COAST GUARD
*************************
SAULT SAINTE MARIE, MI – Commander, Coast Guard Sector Sault Sainte Marie concluded domestic ice breaking operations this morning.

Operation Taconite, the nation's largest ice breaking operation, was initiated 06 December 2013.
During the 160 days of the operation, nine U.S. Coast Guard and three Canadian Coast Guard ice breakers spent 5,001 hours assisting 946 commercial vessel transits; 517 of these movements required direct assistance from one or more ice breakers.
An additional 5,597 hours of ice breaking established and then maintained tracks through the ice choked waterways of Georgian Bay, Straits of Mackinac, Green Bay, southern Lake Michigan, St Marys River, and across Lake Superior in its entirety.
U.S. and Canadian Coast Guard aviators flew 43 sorties in direct support of the ice breaking operation.

An estimated 33 million tons of dry bulk and liquid cargoes, valued at $1.2 Billion U.S. dollars, were shipped during the 160 day operation.
These commodities were crucial to sustaining industrial production and power generation for the Great Lakes region during the winter months.

Statistically, this ice season will be one for the record books.
Although official statistics have not been released, it is reported the 2013-14 season produced the thickest and most expansive ice cover the Great Lakes has experienced in 35 years.

In February 2014, the Motor Tanker ALGOCANADA's up bound transit of the St Marys River, escorted by USCGC KATMAI BAY, took eight days to complete.
Under normal ice conditions, an up bound movement is executed in 12 hours.
USCGC KATMAI BAY stopped the escort twice to refuel.

In March 2014, the first west bound crossing of the Straits of Mackinac took four days.
The crossing featured the JOYCE L. VAN EKENVORT w/ Barge GREAT LAKES TRADER.
The tug is the most powerful tug in the Great Lakes. It was escorted by USCGC MACKINAW, the U.S. Coast Guard's most powerful ice breaker in the Great Lakes.
Under normal conditions the voyage would be completed in 12 hours.

The first east bound crossing of Lake Superior (Duluth, MN to the Soo Locks), facilitated by USCGC MACKINAW, took nine days (26 March-04 April) to complete.
Under normal ice conditions, the typical crossing would take 24 hours to complete.

The first load of iron ore (Two Harbors, MN to Gary Harbor, IN) took 13 days to deliver, which is normally a three day voyage.

Further inquiries can be made by phone to Sault Vessel Traffic Service at (906) 635-3232 or via email at SOOTFC@USCG.MIL.

*************************