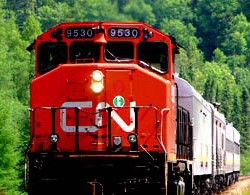 The president of the union representing Canadian National Railway employees said the union leadership was as surprised as everyone else by CN's January 24 announcement they were canceling passenger service between the Sault and Hearst at the end of March.
Rex Beatty, national president of the Teamsters Rail Conference, who represent about 10,000 CN employees, including roughly 40 in the Sault, said normally when the company is proposing "material changes" that could affect union jobs, there are terms in the collective agreements that require CN to consult with union representatives.
Beatty, who lives in Sault Ste. Marie, speculated that CN did not think the situation required discussion.
That however, was not Beatty's position.
"I think there should have been consultation," he said Feb. 3. "The view I take of this is that these things are not done in a vacuum. The railroad and the government have obviously had discussions. It is unfortunate that the union wasn't invited into that inner circle."
Beatty added that the rail company that reports billions of dollars in annual profits has an obligation as "good corporate citizens" and to its employees. "Sault Ste. Marie has provided workers for many, many years, so it is disrespectful that you don't talk to these people," he said.
Beatty also directed criticism toward the Federal government for its decision to end the $2.2 million annual subsidy to the regional passenger service.
"My concern with the government's role is that when you look at Northern Ontario, we always seem to to be on the short end of the stick because we don't have the population they do, for example, in the Toronto area where there is more political clout," he said. "There should be a responsibility on the government's part to ensure there is satisfactory infrastructure for the people they govern. I think that is sorely lacking in the North, and I don't think they (the government) understand the situation."
Beatty, who was born in Hornepayne and went to school in Hearst, added, "I know the impact this is going to have."
Beatty suggested also that the government's assessment of the quality of the roads in the district was inaccurate.
"A lot of these roads are secondary roads. They are not main roads," he said. "In winter, many of them are not open."
He said that there were also unanswered questions about insurance as users are required to use some of those roads, "at their own risk".
Beatty said that he believed the government had not assessed the situation properly, but there was no way for his union to verify this because they had not been invited to government discussions.
Beatty said that what he hopes will happen now is that the government would agree to reassess its decision when they understand the impact it is going to have on the region.
"They hopefully may say we jumped the gun too quickly," Beatty said. "I am also hoping, given my understanding of the railroad, and how profitable they are, that they also will take another look at it, and understand their role as good corporate citizens. I'm hoping those two combined will lead to cooler heads prevailing."
Beatty said all options should be explored to find a solution acceptable to all parties.
He noted that as it stands presently there has been a lack of input from stakeholders. "It seems like we're playing catch-up. All these things should have been addressed long before now. I'm sure it has agitated many people."
Beatty said that the Teamsters represent between 30 to 40 CN engineers, conductors and yard workers in the Sault depending on seasonal adjustments.
Beatty said that it would be difficult to predict what impact the canceled passenger service, if the decision stands, would have on local rail jobs for a couple reasons.
He said that under the contract, employees typically change their job duties twice a year.
He noted also that there is the possibility that local workers could have an option to relocate elsewhere. He said that CN faces chronic shortages of workers, especially in Western Canada, partly, he asserted, because of CN's managerial style, but also because rail jobs are very demanding, often performed under adverse conditions in remote locations.
Meanwhile a looming strike by roughly 3,000 CN conductors, train and yard workers, including those locally, would appear to be averted by a last minute agreement reached Feb. 5 between Teamster and CN negotiators in Montreal.
The three-year deal still must be ratified by union members.
Employees had voted overwhelmingly January 30 to reject an earlier contract negotiated in October that the union negotiators had recommended for acceptance.
Beatty said it was his understanding that members were concerned about issues related to rest provisions in the first contract.
Although rail employees were ready to walk-off the job this Saturday at noon, the Federal government had indicated they would introduce back to work legislation next week should that be needed.