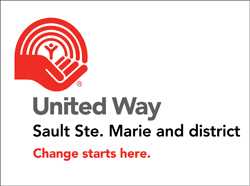 NEWS RELEASE
UNITED WAY SAULT STE MARIE
*************************
The 2013 United Way Sault Ste. Marie Campaign is winding down ... and we have raised $1,130,000 to date.

We have committed to raise $1,350,000 to our community; to the people struggling; to the people who are most vulnerable; and to connect people to opportunities to:
build healthy, strong communities;
help kids to be all that they can be
to move from poverty to possibility
Thank you to everyone who has already donated.

To those we have missed or who have never donated before there is still time to help your community.
Every donation no matter the amount will make a difference.

Donate at www.ssmunitedway.ca or www.canadahelps.org, United Way of Sault Ste. Marie and district – 7A Oxford Street, or call 705-256-7476 ext. 202 or 705-256-7476 ext. 204.
*************************