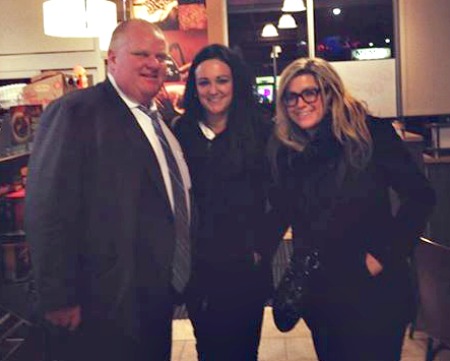 Rob Ford is Canadian.
SooToday.com recently received photographic evidence that the Toronto mayor has indeed visited a Tim Horton's coffee shop at least once in his lifetime.
He's kind and friendly to strangers.
An ambassador of his city and his country.
Not only that, he's heard of Sault Ste. Marie.
"
Rob
Ford
came into the Yonge and Dundas St. West Junction Tim Horton's on Tuesday at around
6:50
or
6:55 p.m
. He went right to the bathroom after running into the shop after pulling up in his big Escalade," says loyal SooToday.com reader Chantal Benoit.
Benoit and her friend Chantal, both from the Sault, were in a Toronto Tim Horton's on Tuesday evening.
She said Ford thought it was funny that Chantal and Chantal were from the Sault, chatted with them for about five minutes, was nice, and gave them each a magnet and a business card.
Almost moments after nominations opened, Ford filed his papers and announced he was running for office again in the October 2014 municipal elections.
Ron Burgundy even sung a
song
about it.
Campaigning for re-election seems like a natural passtime for a Canadian mayor on light duty.
So it would seem that, on Tuesday, in the spirit of true Canadian graciousness, he shared some of his best campaign
magnets
and business cards with a couple Saultites who can't even vote for him.