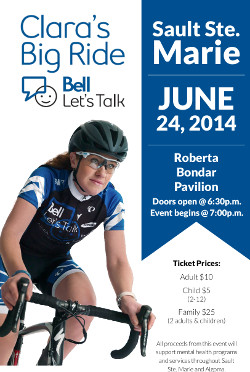 NEWS RELEASE
ALGOMA FAMILY SERVICES
**************************
Six-time Olympian Clara Hughes will bike into Sault Ste. Marie on Tuesday, June 24 to celebrate the 103rd day of Clara's Big Ride for Bell Let's Talk, a 12,000 kilometre bicycle journey around Canada to grow the conversation about mental health on the road to a stigma-free Canada.
Canadian Mental Health Association and Algoma Family Services are co-hosting a welcome event and family fun night to celebrate her arrival.
Clara will be riding into the city in true Sault Ste. Marie style aboard the Agawa Canyon Tour Train.
A welcome event will take place at Algoma Central Railway, located at 219 Bay Street at 5:30 p.m., when Clara is slated to arrive.
Later in the evening, there will be a Family Fun Night at the Roberta Bondar Pavilion from 6:30 p.m.-9:30 p.m. and will include a keynote speech from Clara around 8:15 p.m., entertainment, desserts, a silent auction, and fun activities for all!
Tickets are $10 for adults, $5 for children, or a family pass for $25 (includes two adults + children) and can be purchased at Algoma Family Services, Canadian Mental Health Association, or at the door.
Tickets are also available to ride with Clara on the Agawa Canyon Tour Train.
She will be cycling from Wawa to Frater, located at Mile 102 on the Algoma Central/CN rail line, where she will then board the southbound Agawa Canyon Tour Train for the remainder of her journey to the Sault.
The Tour Train and Clara will be arriving at the Train Station between 5:30 and 6:30 p.m.
Tickets and information are available by calling 705-759-5989.
Business owners can help welcome Clara by changing billboard signs and marquee's to say "Welcome to the Sault Clara!" on the day that she rides into town.
Let's give Clara a huge Sault Ste. Marie welcome she won't forget.
For more information, contact Canadian Mental Health Association (705) 759-0458 or Algoma Family Services (705) 945-5050.
**************************