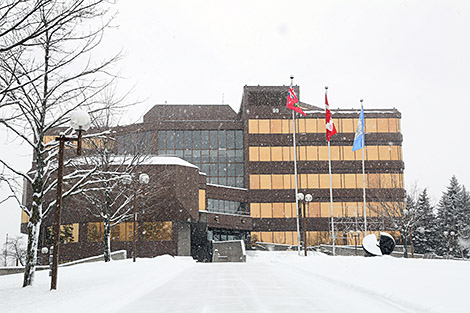 With weather statements being regularly issued by Environment Canada, it is possible Sault Ste. Marie and much of Northeastern Ontario will receive a heavy snowfall (perhaps 15 centimetres or more) beginning Thursday morning and extending into Thursday evening.
Environment Canada also states there may also be a transition to rain or freezing rain in Sault Ste. Marie Thursday evening.
These conditions (described in an Environment Canada weather statement issued at 4 p.m. Wednesday) are subject to change of course, but City of Sault Ste. Marie Public Works and Transportation Deputy Commissioner Susan Hamilton Beach, speaking to SooToday.com late Wednesday afternoon, said City crews are at full strength and prepared to deal with the snow.
"It's not something beyond what we would be able to handle," Hamilton Beach said.
Hamilton Beach told us the number of Public Works employees for winter maintenance is approximately 120.
The number of Public Works staff subject to lay-off for a four to six week period is typically 19.
"We typically do a layoff of the most junior staff and we are planning for one to be scheduled for this weekend, but as of right now, we are at full forces (to deal with any significant snowfall)".
Because of the lingering winter conditions we're experiencing in the Sault this year, City Superintendent of Public Works Mike Lebel has set a full one-month extension to the City's winter maintenance schedule.
Hamilton Beach said: "What that will mean is, around the clock, forces will be prepared to sand, plow and remove snow to the end of April."