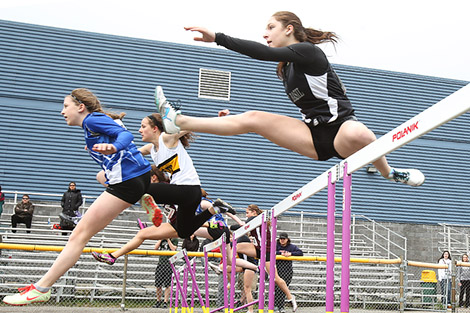 The city track and field championships continued Thursday, despite soggy conditions for the field events.
The track was drier than Wednesday, with the added bonus of winds being at the backs of runners on the 100 meter stretch to the finish line.
Sarah Hammond came within one one-hundredth of a second of matching her city record in the 100 meter hurdles, which she set last year.
Aron Mohammadi won the senior boys 1600 meter run Wednesday and added a 3000 meter run win on Thursday, where he managed to lap most of the other runners.
Mohammadi said he knew he was ahead, but was trying for the best time possible going into NOSSA and beyond.
"I want to qualify for OFSAA and try to win both, but with the level of competiton it's going to be tough," said Mohammadi.
Carter Lobert and Quinten Grimm gave Superior Heights a 1-2 finish in the senior boys 800 meter run Thursday, with a third place finish by Mohammadi.
Final results will be posted as they become available.
*************************
Previous SooToday.com coverage: