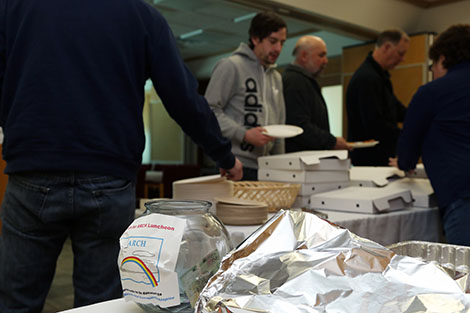 (Photo: City staff members made a donation to dress down and were treated to pizza and wings for the Annual March for ARCH hosted March 6, 2014 at the Civic Centre. SooToday.com/Kenneth Armstrong)
The Algoma Residential Community Hospice (ARCH) received yet another boost from a recent fundraiser.

The 10-bed residential hospice relies on community fundraising to provide their quality end-of-life care.

City of Sault Ste. Marie staff hosted their 3rd annual March for ARCH luncheon Thursday afternoon in the Russ Ramsay Board Room at the Civic Centre.

Over 100 city staff members purchased tickets to dress down to jeans and attend the luncheon, which featured food donated by Solo Trattoria and Sportscentre Bar and Grill.

Soft drinks were donated by Pepsi, with dessert treats donated by Wal-Mart.

Lee Skinner, ARCH's Fund Development Coordinator, read aloud an emotional letter written by the daughter of a patient who spent her last days at the hospice.

Skinner then went on to stress that almost all of ARCH's funding comes from community fundraising such as this.

"All of our operational funding, the building, the maintenance, the food to our residents, the water, the heat, that is all paid for by this community's support," says Skinner.

Only the wages for nursing staff and personal support workers are provided through government funding, says Skinner.

Instead of relying on one or two big fundraising pushes like some other non-profit organizations, ARCH relies on the funding provided by many smaller events that are largely put on by various members of the community.

This year city staff managed to increase their donation over their contribution from the 2013 event.

"It grabs at our heart and we want to do more and more each time, it means a lot to city staff to be able to do this," says Bianca Berlingieri, chair of the Civic Centre Fundraising Committee.

Berlingieri adds, "The facility is one of the best that I am aware of, it provides the end of life care to the people that need it with a dignity that they need. It's a comforting, serene, relaxing place for them and everyone deserves that at the end of their life."
Full text of a news release issued by the City of Sault Ste. Marie follows.
*************************
The Civic Centre Fundraising Committee held its annual March for ARCH Luncheon earlier today, with close to 130 municipal employees participating in the event.
The fundraiser was a great success, raising $1,400 in support of the Algoma Residential Community Hospice.
Lee Skinner, Fund Development Coordinator, accepted the donation from City of Sault Ste. Marie CAO Joe Fratesi, on behalf of participating employees.
Special thanks to Solo Trattoria and the Sportscenter Bar & Grill for generously donating food for the luncheon.
Also, thank you to Walmart North and PepsiCo for providing desserts and beverages.
The March for ARCH Luncheon is one of many activities organized by the Civic Centre Fundraising Committee in support of local charities.
*************************