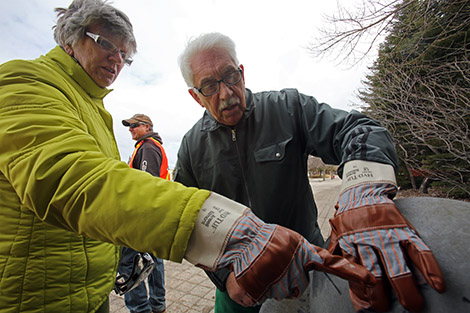 The grounds surrounding the Civic Centre were made a little cleaner Tuesday afternoon during the city's third annual "20-Minute Makeover" event for Earth Day.

Grade 4 and 5 students from Pinewood Public School were on-hand picking up litter at the Civic Centre, while their schoolmates spent the same time cleaning their schoolyard.

In a twist from previous years' events, there was a new emphasis on cleaning graffiti tags, which usually appear as scribbles made with marker, as opposed to elaborate wall murals.

"When it's an artistic expression in a designated area with legal permission (it) can really enhance our community," said Coun. Susan Myers.

Tags, on the other hand, are what police services call a "nuisance crime," said Myers.

Grade 5 teacher Mike Kannenberg said his students learn about tagging as a part of their character education and he hopes that by getting them involved now they will do their part and feel like a bigger part of their community.

"Hopefully as they get older they will make the right choices that benefit themselves, their friends and neighbourhood," said Kannenberg.

The city created a graffiti committee recently to explore ways that graffiti can be used to beautify the city, said Myers, but that won't include tagging.

Myers said that she has learned, through speaking to graffiti artists, that tagging is frowned upon even within that community.
(PHOTO: Councillors Susan Myers and Steve Butland wipe grafitti tags from city garbage cans during the "20-Minute Makeover" event for Earth Day, April 22, 2014. SooToday.com/Kenneth Armstrong)