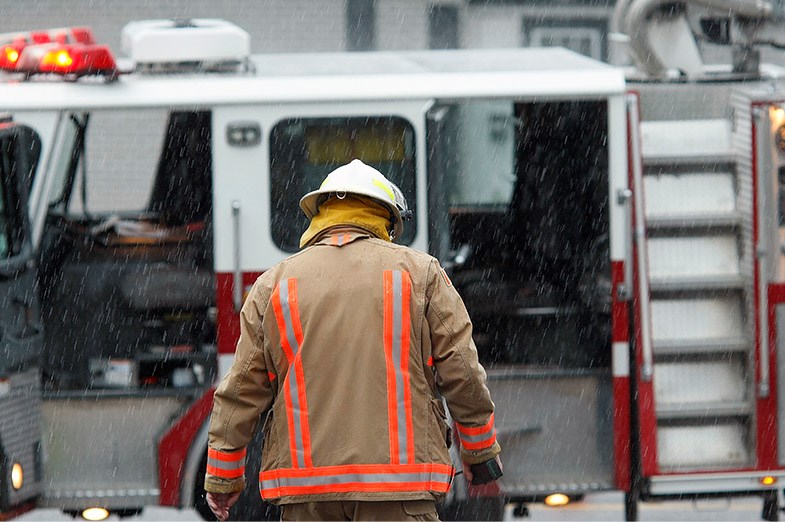 Firefighter cuts in Sault Ste. Marie may negatively affect public safety in the region of Algoma, says the president of an association of fire departments that offer assistance to one another when in need.
The District of Algoma Mutual Aid Association is made up of more than 30 fire departments — professional and volunteer — from across the Algoma region, including Sault Ste. Marie Fire Services.
During his presentation during Monday's city council meeting, Sault Ste. Marie Fire Chief Mike Figliola laid out a plan to cut 20 firefighters over the next three years and hire a smaller number of EMS paramedics.
He also plans to reduce the number of firefighters on duty from the current 17 to between 10 and 13 at any one time.
Should the Sault find itself short of firefighters in case of a major incident, Figliola suggested one solution could be to draw upon mutual aid partners in surrounding communities.
But Echo Bay Fire Chief Janice Catling — who is president of the Algoma Mutual Aid Association — said her volunteer department draws upon Sault Ste. Marie for aid more often than the city draws on Echo Bay.
When asked if Sault Ste. Marie's plan to have less firefighters on duty and cutting 20 positions would have a negative effect on mutual aid in Algoma, Catling answered, "Yes, it probably would."
In addition, Catling said a larger service drawing on mutual aid from much smaller volunteer departments to supplement professional firefighters is not in the spirit of mutual aid.
"[Chief Figliola's] comment was he has lots of access [to mutual aid]. That's not the intent, if you're downsizing, to be able to access mutual aid," she said.
Immediately after Monday's city council meeting, Figliola suggested the sending of mutual aid to partners in Algoma was a non-issue.
"I have been here for nine months and we have only been called out twice," he said.
Prior to Figliola's hiring, mutual aid was called last November when Trout Lake resident Matt Connors and his dog Iggi required an ice-water rescue.
The Aweres Volunteer Fire Department initially attended the scene but was unable to get to the victims.
"For us, we don't have the equipment to do that. Search and Rescue or the city [fire department] are the two options," recalls Aweres Fire Chief Rob Hiiemaa.
With a total of 17 firefighters on duty in Sault Ste. Marie, four were dispatched to Trout Lake to complete the successful ice-water rescue.
In that case, 13 firefighters would still have been on duty in the Sault, more than enough to effectively deal with all but the most serious situations, said Sault Ste. Marie Professional Fire Fighter's Association secretary Robert Shaughnessy.
Besides acting as association secretary, he was also part of the four-firefighter marine unit crew who rescued Connors.
With just 10 to 13 firefighters to be left on duty as a result of Figliola's planned restructuring of the service, Shaughnessy isn't sure the city could spare four firefighters to send out of town to a mutual aid partner.
That could leave as few as six firefighters for the entire city, not enough to effectively deal with a major emergency such as a large house fire.
"Mutual aid is not intended to supplement our compliment as a fire service, it is meant for a mass incident where you don't have the physical resources to do what you have to do," said Shaughnessy.
Hiiemaa said Figliola's plan has not yet come into effect, so he doesn't know if or how it will effect mutual aid for his department.
Aweres Volunteer Fire Department routinely calls upon the fire department in Goulais first in mutual aid situations for fires, but relies on the city's department for specializations such as ice-water rescue.
"If the city asked for help we will help in whatever way we can. We expect the same in return," said Hiiemaa.
SooToday asked Connors what he thought would have happened had Sault Ste. Marie Fire Service's Marine Unit not attended his emergency.
"I'd have been up s—'s creek," he said.
(FILE PHOTO: Kenneth Armstrong/SooToday)