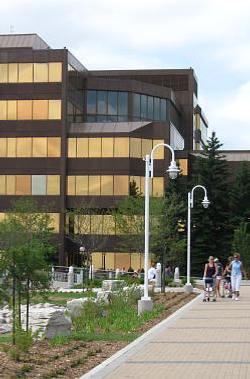 City Council will decide whether to approve the proposed Pointe Estates subdivision development at its regular meeting Monday.
The proposed development remains embroiled in controversy and is scheduled to go before provincial courts in Sudbury in October.
The Sault Ste. Marie Region Conservation Authority Board, in a 3-2 recorded vote at its December 13, 2012 meeting, approved sending the development application from developers Jeff and Patricia Avery to Council as the next step in the application process.
Voting in favour of that move at that December meeting were then-Board Chair Ken Lamming, Brian Watkins (current Board Chair and Ward Three City Councillor) and then-Board member and former Ward Six City Councillor Ozzie Grandinetti. Board members Marchy Bruni and Frank Manzo (current City Councillors for Ward Five and Six, respectively) voted against.
A motion put forward by Manzo at the Conservation Authority Board's March 19, 2013 meeting to rescind the Board's December 13, 2012 vote was not allowed to be tabled by Watkins.
Board member Ken Lamming has also claimed that the December 13, 2012 vote cannot be rescinded before a 12-month period has passed.
Opponents have questioned that claim by Lamming.
The December vote by the Conservation Authority Board came in spite of concerns about the proposed Pointe Estates subdivision development expressed by Conservation Authority staff, concerns expressed in reports by environmental experts, and based on concerns and opposition voiced by residents who live near the proposed subdivision.
Opponents insist the development would harm the quantity and quality of the water supply in the Pointe Estates development area, including the St. Mary's River, and affect residents who live nearby.
It is also felt the subdivision would adversely affect wildlife in the area.
In March, Sault Ste. Marie lawyer Helen Scott, representing the nearby residents who identify themselves as the Pointes Protection Association, presented Watkins, as the Conservation Authority Board Chair, with documents stating the Board's December vote will be taken to provincial court.
At that time, Scott told SooToday.com the legal action's purpose is "to review the resolutions that were passed December 13, 2012 to permit this development, and the evidence that was submitted in support of that application".
Scott has stated the argument of those opposed to the proposed development is based on the belief that environmental tests of the area concerned, carried out on developer Jeff Avery's behalf, are not sufficient.
Scott told us: "(The Conservation Authority Board) is supposed to ensure certain things will not be negatively impacted. They didn't do that."
According to the Ontario Ministry of Natural Resources (MNR), the wetland on the property in question is "not provincially significant."
However, opponents clearly maintain the property's wetland is significant enough to warrant a legal challenge to the Board's December decision.
Toronto-based planning consultant Anthony Usher, in a report dated July 9, 2013 and addressed to the City of Sault Ste. Marie's Planning Director, recommends the application should be refused.
Concerns over the Pointe Estates development have been raised for several years, pre-dating the Conservation Authority's December vote.
An independent 38-page report prepared for the Conservation Authority in December 2011 by Sault Ste. Marie, Michigan-based hydrogeologist Frank Breen also expresses environmental concerns about the proposed development.
It should be noted, however, that Breen, both in his report and in an e-mail to SooToday.com, emphasized he is neither opposed to or in support of the development, but from a professional viewpoint, he feels the project poses a potential risk to the area and nearby residents that Council needs to address.
Property owners Jeff and Patricia Avery want Council's approval to build a 91-lot single detached rural estate subdivision south of Pointe Aux Pins Drive, west of Dalgleish Road, north of Alagash Drive and Pointe Louise Drive.
Approval of the application would require the closing of part of Alagash Drive and construction of a new access road at 248 Pointe Louise Drive.
The area concerned is 102 hectares (252 acres) in size.
Council's approval, a City staff report states, would come with no less than 12 conditions being met, one of which is that the developer provide a detailed development plan from a qualified engineer, integrating recommendations of studies supporting the application, and that all construction be done under the supervision of a qualified engineer under a regular monitoring program.
City Council's consideration of the matter at this point in time is considered, by some, controversial in itself.
Council agreed, by a vote of 12-1 at its June 10, 2013 meeting, to agree to hear from the developer and opponents at Monday's upcoming meeting.
Opponents state Council should not consider the matter at all until it is thrashed out and settled in court.
City Solicitor Nuala Kenny told Council at its June 10 meeting that it may indeed consider the matter at this time because the City of Sault Ste. Marie has not been named in connection with the upcoming court proceedings.
City Planning Director Don McConnell, at the June 10 meeting, told Council if the courts rule against the development, any further discussion of the matter by Council and the Conservation Authority will come to an end.
Councillor Frank Manzo, who has been the most passionately vocal opponent of the proposed development, voted against discussion of the matter by Council until the courts deal with it.
The legal papers filed in court by Helen Scott in Sault Ste. Marie in March, copies of which were given by Scott to Watkins, state the Conservation Authority Board's Resolutions #103/12 and #104/12 on December 13, 2012 "are illegal and invalid," running contrary to the Conservation Authorities Act, and Sault Ste. Marie Region Conservation Authority Regulation of Development, Interference with Wetlands and Alterations to Shorelines and Watercourses, as amended under the Conservation Authorities Act.
The documents state that the Board "exceeded its jurisdiction by passing Resolution #103/12 and Resolution #104/12 with no reasonable evidence to support its decision."
While Scott represents the Pointes Protection Association, the Conservation Authority is retaining legal counsel by Sault lawyer John Paul Paciocco in the matter.