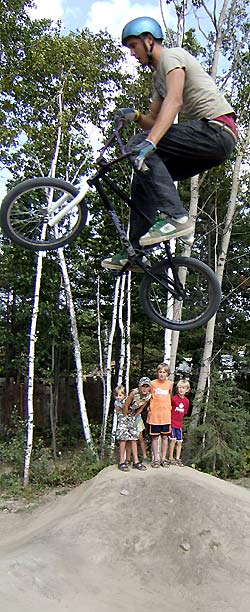 A proposal for a community bicycle park will be put to City Council at its' first meeting in the New Year.
Sault Ste. Marie Region Conservation Authority's Deane Greenwood, who is also a member of the Sault Trails Advocacy Committee (STAC) and the City's Parks and Recreation Advisory Committee (PRAC), is keeping the location for the proposed facility under wraps for now, but told SooToday.com "people will find out the location in the new year. It's a very unique site and it's going to be available for a lot of people."
"It's in an area where there are a lot of kids, and close to the Hub Trail."
Specifically, the proposed bicycle park will be a pump track, Greenwood said.
A pump track is not a trail, but a mountain bike course dotted with bumps, jumps and berms in which the rider uses his or her own weight to get through it without continuously pedaling the bicycle.
Greenwood, chair of a sub-committee within PRAC called the community bicycle parks committee, said "we've been working for the last couple of years on a location for a bicycle park…essentially we had another site chosen a couple of years ago, an all season park called the Gravity Park, but we didn't build that."
"Our focus has become more in tune with the Hub Trail and its usage, and basically now we're looking at a skill park designed for kids of all ages, and adults, to have fun riding around, pump tracks which improve your bicycle skills."
He added "we've been looking at various choices for locations we would like in the community, and we do have a location picked that we'll be discussing at January 7th's Council meeting, and hopefully Council will refer our recommendations to City Staff and we can get going on constructing a bicycle park."
Greenwood said Council has already earmarked some funding for the facility.
(SooToday.com photo by Carol Martin shows Dan Pandzic demonstrating tricks on a pump track at Velorution Bike and Ski Shop in 2007)