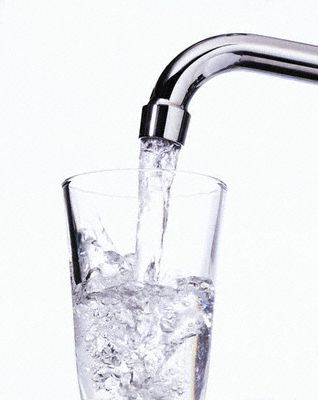 PUC matters dominated the proceedings at Monday's City Council meeting.
Sault Ste. Marie PUC President and CEO Dominic Parrella told City Council that the utility is committed to communicating with the City (its sole shareholder) and its customers in its ongoing effort to address the foul taste and odour of local tap water.
Complaints from PUC customers have been ongoing since free chlorine disinfectant was introduced into the city's water, in accordance with provincial regulations, in October 2011.
PUC officials, Council was told, contacted Ipsos Reid to conduct an opinion poll locally in November 2012.
The survey, Council was informed by Parrella, showed that satisfaction with the quality of the drinking water is low, at 50 percent.
However, Parrella pointed out, once residents were informed of the reason for the change in the disinfection process, 64 percent of respondents say the water is acceptable, and, when told of the benefits of the new process, the majority states the water is acceptable, bringing the acceptability rate among residents up to 84 percent.
The PUC claims free chlorine improves quality and cost of tap water.
Ward One Councillor Steve Butland asked Chris Kresin of Kresin Engineering, who accompanied Parrella in the presentation of Monday night's report to Council, if the objectionable taste and odour of Sault Ste. Marie's tap water will "ever go away."
Kresin replied there will always be a percentage of complaints whenever and wherever free chlorine is involved in tap water.
Parrella insisted taste and odour of the Sault's tap water will improve with the passage of time, but added it will not taste or smell the way it did in the pre-chlorine days.
"We'll be back to Council to report on our progress, but we cannot go back to the way it was, due to provincial regulations., but we are committed to improvement," Parrella said.
Parella advised concerned PUC customers to run tap water until it is cold before consuming it, or refrigerate it before drinking it, adding that running the tap for an extra length of time costs only a few cents extra per day.
In another PUC matter, it was also recommended at Monday's Council meeting that City Solicitor Nuala Kenny of the City's legal department enter into discussions with PUC Services Inc. to amend the existing shareholder agreement.
The City of Sault Ste. Marie is PUC Inc.'s sole shareholder, an arrangement that came into place when the utility was converted from a City commission into a corporation in 2000.
A caucus meeting was held by City Councillors and staff January 17, 2013 as an information seminar, with guidance provided by consulting firm WeirFoulds.
It was recommended that some foggy areas within the shareholder agreement be cleared up, such as putting a limit on the amount of corporate donations from the PUC to entities within the community.
In a recorded vote, Council voted unanimously to direct the City's legal department to re-open the shareholder agreement between the City and the PUC.
Council also voted to accept the PUC's fourth quarter shareholder report as information, and was pleased to hear Parrella report that the PUC's old office on Queen Street East has a buyer, with the deal hopefully closing in April. Former PUC President and CEO Brian Curran, who retired January 31, informed SooToday.com earlier that the PUC's asking price of $1.5 million for the Queen Street building had been met.