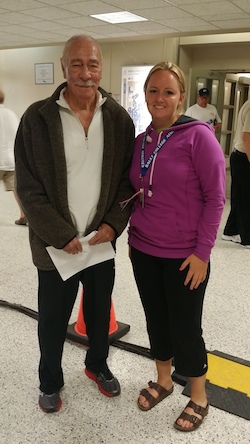 Sault College student Carolyn Brooks emailed with another photo of Christopher Plummer (left), this one taken this morning at the college.
Check the photo gallery to see more photos of Plummer snapped on Gore Street.
Thursday's original story:
SooToday received the following photos from a loyal reader of actor Christopher Plummer filming Remember here in the Sault on Gore Street.
Remember, helmed by noted director Atom Egoyan, is a story about a 90-year-old Holocaust survivor named Zev who sets out to find and kill a Nazi war criminal named Rudy who was responsible for the murder of Zev's family.
Plummer, age 84, plays the lead character Zev in the movie.
Filming is expected to wrap up later this week.