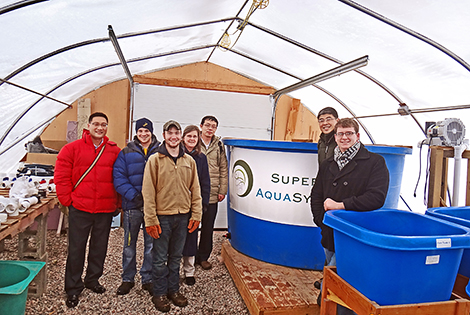 (Photo courtesy of SOUC/Zengfu Song)
NEWS RELEASE
LAKE SUPERIOR STATE UNIVERSITY
*************************
SAULT STE. MARIE, MI - A delegation from the Shanghai Ocean University of China tours Lake Superior State University's aquaculture project on December 22, 2013 in Sault Ste. Marie, Michigan.
The facility is testing fish micro-farming technology that uses recirculating fish tanks, hydroponics, and green energy sources.
SOUC professors Zengfu Song (left) and Liqun Lu (left of tank) spent two days touring LSSU's biology, fish health, environmental analysis, and aquatic research laboratories with an eye towards developing cooperative research and learning initiatives.
They were also comparing notes with LSSU on fish health, a program SOUC launched this past year.
SOUC specializes in applied fisheries and oceanographic studies, and has 10,000 students enrolled in undergraduate, graduate, and doctoral programs. Professor Guidi Yang of LSSU's international studies office invited the delegation to visit when she visited SOUC last fall.
LSSU biology professor Jun Li presented a fish health guest lecture at SOUC in 2010.
Business, engineering, and biology students run LSSU's prototype aquaculture project.
Their group, Superior AquaSystems LLC, is a semifinalist in the Michigan Collegiate Innovation Prize business plan competition coming up Feb. 13-14 in Ann Arbor, Michigan.
Follow them on Facebook at www.facebook.com/superioraquasystems.
Left to right are SOUC professor Song; AquaSystems members Zach Prause (fisheries and wildlife management major from Wyoming, MI.), Lucas Bradburn (fish health/fisheries and wildlife management dual major from Fenton, MI.), and biology professor Barbara Evans (faculty adviser); SOUC professor Liqun Lu; LSSU biology professor and fish health program director Jun Li; and AquaSystems team member Cameron Penny (business administration/marketing/international business multiple major; Onaway, MI.).
*************************