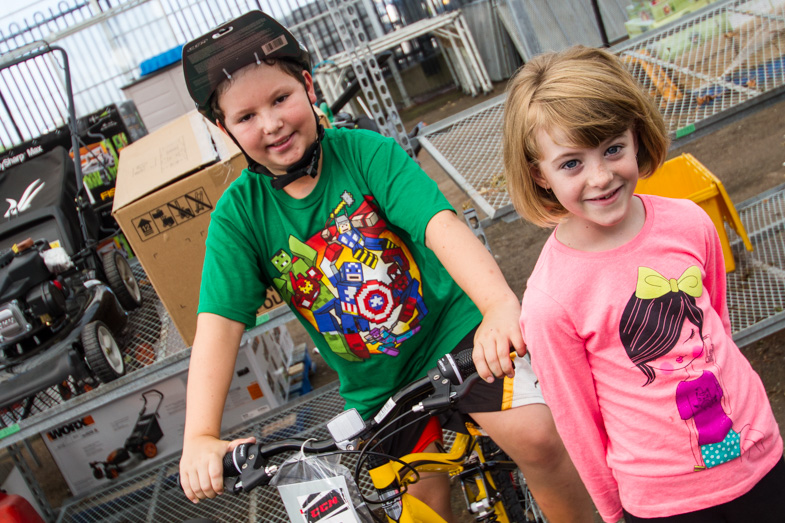 At Canadian Tire yesterday, eight lucky children were presented with brand new bikes and helmets thanks to the Play Safe program.

Presented by Algoma Power Inc. in partnership with the Sault Ste Marie Police Service, the Ontario Provincial Police, and the Anishinabek and Batchewana Police Service, the program encourages youngsters to develop effective safety habits by offering rewards to those found to be playing in a healthy and safe manner.
Certificates are presented by patrol officers to children which are redeemed for ice cream at a variety of locations throughout Sault Ste. Marie and Wawa.

Each child that is presented with a safety certificate can enter into a draw for a free bike with winners chosen at random.

When 8-year-old Charlotte Morrison was chosen to be one of this year's winners, the Grade 3 St. Mary's French Immersion student decided she really didn't need a new bike and opted to give it to another child in her school.

"I already got a brand new bike for my birthday," Charlotte said. "I thought that somebody else might want a bike. I don't know what I would do without my bike because I love my bike. So, I would think somebody would like a bike too."

With assistance from the school principal, 10-year-old Kyadin Jones was picked as the recipient of Charlotte's generous donation.

He told SooToday that when he was called to the school office to be informed of the good news, he was relieved to find out he wasn't in trouble.

"We're using this as an incentive for him him to do better in school because he struggles a bit," Kyadin's mother Cindy Stonehouse-Jones told us. "Hopefully this gives him a little bit of oomph to feel better about himself."

Donating her new bike to someone in need isn't the first act of kindness from young Charlotte.

She recently donated 11 inches of hair in support of area cancer patients.

"I heard a bunch of people were getting sick and their hair was falling out so I thought that I want to have a new change with my hair so I donated my hair because I wanted somebody to have beautiful hair too," Charlotte said.

Her mother Shannon Morrison, who is a cancer survivor, told us that Charlotte has always been a very caring and sensitive child.

"I didn't lose my hair to cancer… but we talk about it a lot, and when we mentioned it to her, and she didn't even hesitate," she said. "She's pretty generous and just a great kid."
(PHOTO: Kyadin Jones and Charlotte Morrison at Canadian Tire for the annual Play Safe Program bike presentation on Tuesday, September 15, 2015. Donna Hopper/SooToday)