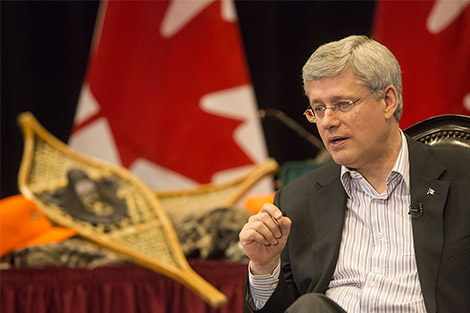 Would an NDP-led government bring a return to the long gun registry in Canada? Depends on who you ask.

Charlie Angus, NDP MP for Timmins-James Bay, sent out a strongly-worded press release Wednesday in response to news headlines that suggested his NDP party would reinstate the registry should they be elected to government.

"When I read that headline I literally banged my head on the desk," he said by phone Thursday.

"There is no registry coming back because the costs would be enormous and the response from people in rural Canada was they don't want it," he added.

This seems to be in contrast to what Party leader Thomas Mulcair said Wednesday, which suggested the NDP would reinstate some kind of firearm registration.

"I have nothing against seeing honest farmers and duck hunters be able to have their weapons," Canadian Press quoted Mulcair saying outside an NDP caucus meeting.
"But, you know, that honest hunter who goes out with his pickup truck, it's a registered pickup truck ... the trailer's registered and the 4X4 is registered. Heck, his dog is registered."
New Democrats "have confidence in the ability of farmers and duck hunters to fill out a form," Mulcair added.
Conservatives have latched on to these comments.
"If they were, God help us, ever elected into government they would re-introduce a long-gun registry," said Greg Rickford, Conservative MP for Kenora.

Rickford said Northern Ontario NDP MPs are being hypocritical when they claim to not want to bring back the registry because they voted against scrapping the previous registry.

"A number of words come to mind. The ones I can use in public would be hypocritical and an affront to the values that, in many regards, define who we are as Northern Ontarians," said Rickford.

Mulcair's comments were made as the Conservatives are presenting the Common-Sense Firearms Licensing Act in the House of Commons, which in part eases restrictions on transporting firearms.
"There are elements in this gun act that are reasonable. The issues of merging the possession-only and Firearms Acquisition licences - we've been talking about that for years. That's a reasonable provision. What worries me is lifting the regulation around transportation of prohibited weapons in a vehicle," said Angus.
Rickford said the bill does dispense the need for a legal gun owner to call the Chief Fireams Officer to report transporting of a restricted firearm, but it does not change the terms under which the weapon is transported.
"'Police should be able to say 'Where are you going with this?' as opposed to someone carrying it and saying 'I'm going into a gun rage and you can't stop me because I can carry this prohibited weapon,'" argues Angus, who noted he is a gun owner himself.

Angus suggests the timing of the bill is suspect with an election less than a year away.
"The unfortunate thing is the fight for the gun registry was a huge money maker for the Conservative party. Year after year they milked this thing, so just before an election you get another gun bill," he said.

Prime Minister Stephen Harper spoke to gun owners and anglers at the Water Tower Inn in Sault Ste. Marie last October.

Harper said during that event that his party was taking necessary actions to ensure that bureaucrats, Liberals and NDP could not bring the long gun registry back.
The following is a release on the subject from Sault MP Bryan Hayes:
*************************
Bryan Hayes Member of Parliament for Sault Ste. Marie and area promised during his election campaign that he would work to abolish Canada's ineffective Long-Gun Registry.
On April 5th, 2012, MP Hayes along with the Government of Canada followed through with this promise and welcomed Royal Assent for Bill C-19: Ending the Long Gun Registry Act.
Recently, Thomas Mulcair, leader of the NDP, has committed his party to reviving the Long-Gun Registry.
Mulcair says requiring firearms to be registered is the same as the obligation to register a car or license a dog.
He also says duck hunters don't need assault rifles, unless they're planning to shoot a pterodactyl.
"I am proud that our Government followed through so quickly with our promise to end the wasteful and ineffective long-gun registry once and for all!" said MP Hayes. "The Long-Gun Registry unfairly targeted law-abiding farmers and hunters and cost millions of dollars."
This summer, the Conservative Government announced the Common Sense Firearms Licensing Act which will:
Merge the Possession Only License (POL) and the Possession and Acquisition License (PAL);
Restrict the ability of Chief Firearms Officers to make arbitrary decisions;
Create a grace period at the end of the five-year licence to stop people from immediately becoming criminalized for paperwork errors;
End needless paperwork around Authorizations to Transport by making them a condition of a license;
Require mandatory firearms safety courses for first-time gun owners;
Strengthen firearms prohibitions for those who are convicted of domestic violence offences; and
Fix the problem of arbitrary reclassification once and for all.
"Our government believes that owning a firearm is a right that comes with responsibilities. That is why we are committed to safe and sensible firearms policies," said MP Hayes. "We delivered on our promise to abolish the Long-Gun Registry and we will always stand up for law-abiding hunters, farmers and sport-shooters."
*************************
(PHOTO: Prime Minister Stephen Harper speaks at a question and answer period held by the Ontario Federation of Anglers and Hunters in Sault Ste. Marie in this file photo. Village Media)