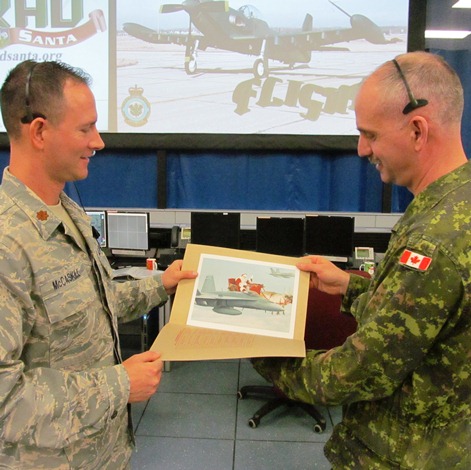 After deploying CF18 fighter jets CFB North Bay positively identified the flying object as a sleigh and confirmed it was Santa in Canadian air space.
It turned to all smiles at CFB North Bay as members of the 21 Aerospace Control and Warning Squadron confirmed that Santa had officially entered into Canadian airspace to deliver toys to good boys and girls across the nation.
Major Dave McCaskill with the United States Air Force says his crew was delighted that the unknown subject turned out to be friendly aircraft.
"We work at NORAD 365 days a year, 24 hours a day and we detect, track and ID and pull surveillance on enemy aircraft that's leaving or coming out of the country," he explains.
"So something like that is exactly you know real life for us, actually when people in the States ask me what do I do or exactly my job I like to tell them I protect Canada and the USA from bad guys."
"Santa actually slows down just for out fighters so you know he can give a thumbs up a wave to 'em because he is obviously very fast."
"He's obviously a great pilot, he's never had an accident all we're doing is clearing a safe passage for him and saying hi."
SooToday.com sister-site Baytoday.ca's Kate Adams was on the scene at CFB North Bay last night and brings us this report from Major Dave McCaskill:
* * *