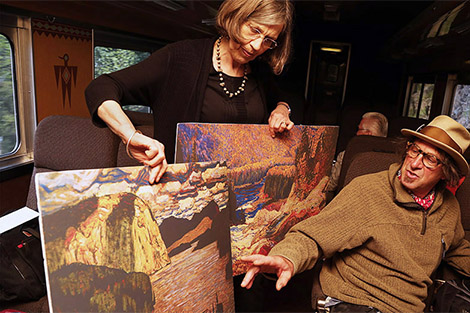 The Coalition for Algoma Passenger Trains (CAPT) invited camp owners, lodge owners, local media and other stakeholders on a trip to Hearst, Ontario Saturday to celebrate the 100th anniversary of the Algoma Central Railway (ACR).
Clear, sunny weather greeted the train-riders on their travel north.
The passenger cars are air-conditioned but many chose to enjoy the views from the open vestibule of the passenger cars or in the baggage cars with the doors open.
Musicians were hired to entertain during the events.
The train made stops at Searchmont and Hawk Junction, in addition to whistle stops at local camps and lodges on its way to Hearst.
Representatives from Hearst greeted the train on its arrival, including the acting mayor and members of the town's economic development corporation and other local stakeholders.

The almost 300-mile journey took approximately 12 hours, with a return voyage for attendees on the following morning.
(PHOTO: Coalition for Algoma Passenger Trains (CAPT) co-chair Dr. Linda Savory Gordon shows passengers examples of Group of Seven paintings as the train rolled past the landmarks during the ACR train's 100th anniversary voyage from Sault Ste. Marie, Ont. to Hearst, Ont. June 1, 2014. SooToday.com/Kenneth Armstrong.)
Editor's note: Check back later for continuing coverage of this story.