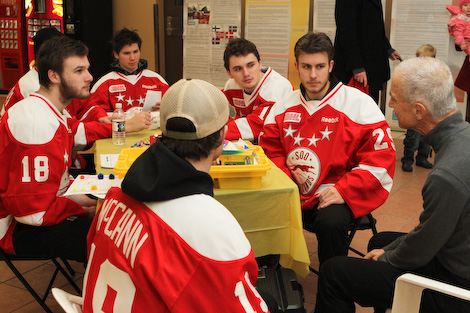 The Sault Community Career Centre was joined by author, teacher, and former Saultite Frank Paci last evening at the Cambrian Mall to host the launch of its celebration of 100 Years of Cultural Diversity in the Algoma District.

This Ontario Job Creation Partnership Project is a developing research project designed to showcase the historical multiculturalism of the region.

Each month, the Sault Community Career Centre will highlight two cultures with displays at the Sault Ste. Marie Museum and other locations throughout the City.

A variety of school board and public presentations will also be introduced as part of the project, as well as the development of a coordinating website which area residents are encouraged to contribute to.

During last night's launch, members of the Soo Greyhounds, including Jared McCann, Ryan Kirkup and Sergey Tolchinsky, were also on hand to meet fans and sign autographs.

They were also very interested in what Mr. Paci had to say (pictured above) since the release of his most recent book, Playing To Win, a collection of 10 short stories about what healthy competition can reveal about one's character.