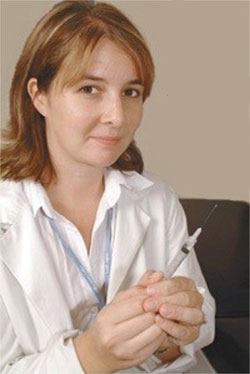 NEWS RELEASE
HEALTH SCIENCES NORTH
*************************
SUDBURY – A donation from one of Canada's most famous and successful families has greatly increased cancer and vaccine research in Sudbury.

A $25,000 donation by The W. Garfield Weston Foundation will be used by the Advanced Medical Research Institute of Canada (AMRIC) to purchase two important pieces of equipment; an automated colony counter and spiral plater inoculator.
Both pieces of equipment are used for research in cancer, infectious diseases, and vaccine development and will significantly increase the research conducted by AMRIC's doctors and scientists.

"This equipment will enhance the research we do at AMRIC and is what you would expect to find in a cutting-edge research lab," says Dr. Franciso Diaz-Mitoma, chief executive officer and scientific director of AMRIC. "Not only has this donation validated the importance and value of research in Greater Sudbury, it will also have a positive impact on the care we provide to patients."

The W. Garfield Weston Foundation was created in the 1950s by Willard Garfield Weston, and his wife Reta, with their shares in the family company, George Weston Limited.
George Weston Limited is one of Canada's most successful companies, and includes Weston Foods and Loblaw Companies.
Donations from The W. Garfield Weston Foundation are directed to organizations in the fields of education and land conservation together with science in Canada's North.
In addition, it provides funds to further Canada's research in neuroscience.

"We're very pleased to receive this donation from such a prestigious organization as The W. Garfield Weston Foundation," said Keith Bullock, chair, Health Sciences North Foundation Board of Directors.
"People I talk to tell me they understand the importance of investing in research being done here in Sudbury. Whether it is by creating new vaccines, fighting cancer, or developing new models of care for our seniors,it is through these donations that we are able to turn medical science into front-line medical care."

Launched in 2012, AMRIC is the affiliated research arm of Health Sciences North/Horizon Santé-Nord (HSN).
AMRIC employs a team of over 60 scientists and staff.
In addition to contributions from organizations such as The W. Garfield Weston Foundation, AMRIC is generously supported by the HSN Foundation, the Northern Cancer Foundation, and the HSN Volunteer Association.

*************************