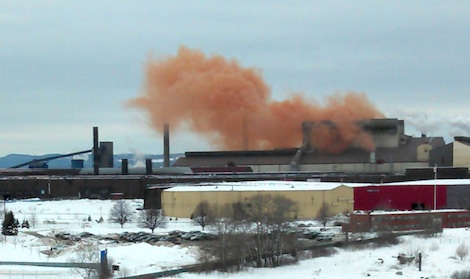 "Saw this while crossing the bridge into the States today at 1:20 p.m.," loyal reader Angie Silk wrote in an e-mail to SooToday.com news yesterday. "Wondering if anyone knew what it is, because it looks disgusting."

Why yes, Angie, someone does indeed know.

We posed the question to Essar Steel Algoma Manager of Corporate Communications, Brenda Stenta, to get to the bottom of the orange stuff.

"We experienced an equipment failure in our steelmaking emissions control baghouse which resulted in the emission of iron oxide particulate (the orange plume)," Stenta told us. "The equipment has since been repaired and steps are being taken to prevent a recurrence."