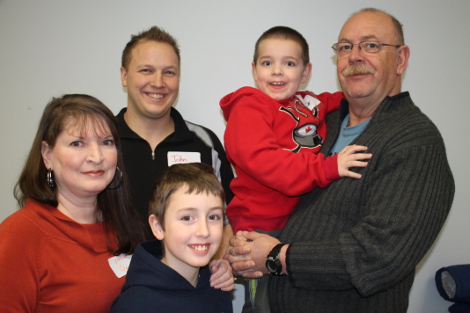 Seven-year-old Connor Fleming of Sault Ste. Marie is an active child, courageous and determined to live a healthy, happy life despite being diagnosed with acute lymphoblastic leukemia in 2011.
Connor is pictured in the arms of his grandfather Mike Duguay, along with his grandmother Claire Duguay, his 11-year-old brother Austin and Camp Quality Northern Ontario's Co-Director John McLean at the John Rhodes Community Centre Saturday.
Children affected by cancer, and their families, gathered at the Rhodes Centre Saturday for Camp Quality Northern Ontario's annual Winter Fun Day.
Saturday's group consisted of eight children battling cancer, seven siblings, along with parents and other family members, for a total of 40 attendees.
The event was a chance for children affected by cancer and their families to get together and bond over pizza and refreshments, games and a swim at the Rhodes Centre swimming pool, before attending a Sault Greyhounds game Saturday.
Connor's prognosis is good because he was diagnosed with the disease at a young age, his grandmother Claire Duguay told SooToday.com.
"Treatments have gone well, he's being treated at Sick Kids Hospital in Toronto and in Sudbury," Duguay told us.
Connor, who is now in remission, began his treatments in 2011 and they are scheduled to be complete in May of this year, with regularly scheduled retesting to take place every few months.
Claire said: "There's been a lot of support at the cancer clinic here in the Sault, they're amazing…the Cancer Society in town, God bless them."
Claire praised Terry Fox's Marathon of Hope for steps made in cancer research.
Among the many traumatic factors associated with cancer, Connor's education, Claire said, has been dramatically disrupted because of his illness and the scheduling of treatments.
However, Claire said: "He's been so busy enjoying life as a child that he doesn't stop to think of all the things he's had to face…he'll be brave and do what needs to be done."
Connor's brother Austin takes good care of Connor and told us he looks forward to a healthy life for his brother, while Claire said the family hopes to send Connor and Austin to this summer's Camp Quality summer camp.
We asked Connor himself to stop and chat, but he was clearly too busy playing and having fun!
Saturday marked the second annual Camp Quality Northern Ontario Winter Fun Day to be held in Sault Ste. Marie.
The event was an opportunity for children to re-connect with friends they made at Camp Quality Northern Ontario's annual week-long summer camp at Monetville near Lake Nipissing, in which the children and their siblings enjoyed activities together, to concentrate on fun and put illness aside.
McLean, an HVAC mechanic by profession who travelled from Mississauga for Saturday's event, told us that Camp Quality is a non-profit, strictly volunteer-based and community-funded group, formed in 1988, with seven camps across Canada that offer fun activities for children battling cancer, accompanied by their siblings.
Each camp has trained adult volunteers and medical staff on site.
Last year's summer camp at Monetville included airplane rides, fishing, swimming, crafts, skits, movie nights, entertainers and more, with planning for the 2014 summer camp underway.
"The Northern Ontario community is so generous, all the funding comes from people holding bonspiels, dinners, concerts…people take it upon themselves and contact us and ask 'can we run an event to support you," McLean told us.
Medical staff at hospitals which administer cancer treatments put the children and their families in touch with Camp Quality Canada's Toronto head office so that the families may avail themselves of the fun services the group offers.