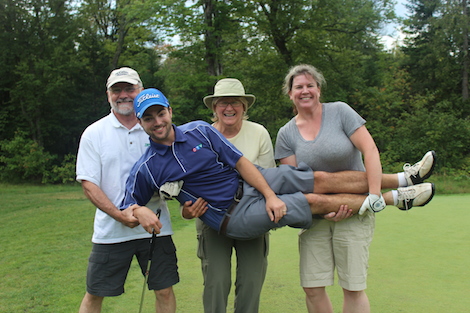 NEWS RELEASE
ARCH HOSPICE
*************************
The older you get, the better you get – so too the Hospice Golf Classic!
Get out your clubs and gear up for some old fashioned fun at ARCH's 11th Annual Hospice Golf Classic on Friday, September 5, 2014.
As one of Sault Ste. Marie's first golf tournaments it has a long history of laughs and fond memories.
A young at heart event, the Classic has become an annual tradition for many Hospice supporters.
This year's festivities start with a refreshing light breakfast, then a classic scramble-style tournament held at the Sault Ste. Marie Golf Club, and finishes with a delicious banquet dinner with prizes at the Northern Grand Gardens.
The Classic has raised funds to support ARCH Hospice operations for eleven consecutive years.
Jill Raycroft, seasoned participant and member of the Arch Hospice Golf Organizing Committee, reflects on the tournament, "We watched the Hospice from its beginnings and have been supporting its growth since. Then when my daughter passed away there, ARCH became more personal. It's important to the community to have there is a place like ARCH to be comfortable and with their families during the end of life. The tournament supports ARCH Hospice and ensures this necessary facility is here for families in the future."
Join us and become a part of the Hospice Golf Classic's fun filled legacy to support ARCH Hospice.
Your golf cart, 18 holes, three complete meals, golfer's gift, and prizes are all included in the cost of $150 per participant of a four-person team.
Brochure and registration forms are available here and pledge forms are available here or learn more by contacting Lee Skinner at skinnerl@archospice.ca.
ARCH is committed to the belief that life is meant to be lived fully with dignity and comfort to the end.
Dedicated staff and volunteers provide compassionate care to meet the physical, emotional, social, and spiritual needs of those we are privileged to serve.
ARCH Hospice is only partially government funded.
An additional $750,000 through donations and fundraising is required annually to provide this service to the community.
Participating and raising pledges for the 11th Annual Hospice Golf Classic helps raise much-needed funds so ARCH can continue to offer comfort and care to Sault-area families during their end-of-life journeys.
*************************