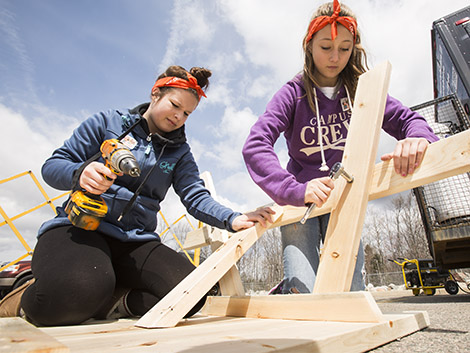 White Pines grade 9 student Elizabeth Gagne volunteered to build picnic tables because she prefers volunteer work that is hands-on.

"It gets you involved in your community and helping, gets you outside and it's for a good cause," said Gagne.

Tables by Teens was one event organized by United Way Sault Ste. Marie and District project coordinator Kaitlyn Irwin and involved about a dozen local high school students building picnic tables in the Home Depot parking lot on Saturday.

"We try to create volunteer initiatives for students to participate in and this is one of them," said Irwin.

Irwin is organizing local events for ChangeTheWorld: Ontario Youth Volunteer Challenge, which runs between April 6 and May 19 across Ontario.

The events are intended for students age 14-18 and are being organized through volunteer Sault Ste. Marie.
The students can apply the hours volunteered toward the 40 hours required to graduate high school in Ontario.

The picnic table kits were donated by Home Depot and sold for one-hundred dollars each, the money from which will go toward whatever project or charity the children decide.

Giving back to the community is one of Home Depot's core values, says store Manager Susie Furchacher.

The teens get to learn some life skills by actually assembling the tables, said Furbacher.

"For some of these kids they have never had an opportunity to do this kind of work, and this is a great opportunity for them to give back and help each other. It gives them a sense of pride in their work," said Furbacher.

Any tables that were left over from the event were to be donated to local charities, said Irwin.

Irwin is hoping to make Tables by Teens an annual event, possibly adding Muskoka chairs in the future.
(PHOTO: Emma Stafford and Paige Furbacher, both Grade 9 students at Korah Collegiate and Vocational School, assemble picnic tables for the United Way May 17, 2014 at Home Depot. SooToday.com/Kenneth Armstrong)