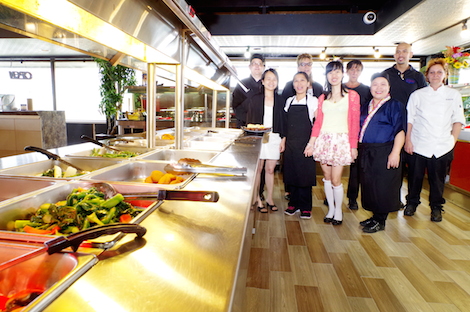 The pool tables have been replaced with buffet tables at a well-known downtown eating location.
Waterfront Legend, a new Chinese-Canadian buffet and restaurant, opened a little over a week ago in the spot formerly occupied by Docks Riverfront Bar and Grill and SooToday took a tour of the new restaurant.
The restaurant, now owned by Imee Yeun, sits next to the Roberta Bondar Marina in the building formerly known as the Algoma Steel Men's Club.
The main dining area remains largely unchanged, though several small details mark the switch in ownership - Asian art now decorates the walls, the lighting is new and a waterfall greets diners as they enter the space.
As already noted, the pool tables have been removed and while the bar remains, that space is now dominated by rows of buffet counters.
Chinese and Canadian fare is on display - more than 100 items from lasagna to chicken balls - and Carrie Herbert, the restaurant's manager, said weekends will see the buffet move upscale with the option to have prime rib sliced and cooked in front of you.
Herbert said a full menu is available, featuring high-end Asian cuisine.
The buffet also includes a sushi bar, prepared daily by Chita Triplett.
Herbert said she thinks it is the combination of location and buffet concept that sets Waterfront Legend apart.
"The scenery. It's so beautiful to be on the water," she said.
(PHOTO: Staff members at Waterfront Legend are pictured in the new restaurant's buffet area. Michael Purvis/SooToday)